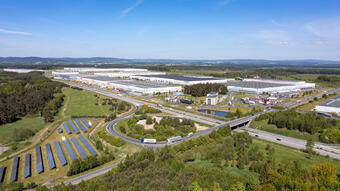 The company has leased a distribution centre in one of the largest and most sought-after industrial parks in the Czech Republic. Bosch will move its operations from the Netherlands to CTPark Bor in western Bohemia, where it will have over 15,000 sqm of lettable area.
CTP will provide Bosch with a cross-dock, which has the advantage of improved logistics, receipt and expedition of goods. The space can be expanded in the future. Bosch will use its 15,688 sqm primarily for the storage of electronic components and camera systems but the plan also includes offices for local management and employees.
Jakub Kodr, Senior Business Developer at CTP, commented:
"We are very happy to have been selected by this globally renowned company with a history of well over a century. We believe their decision was significantly influenced by the readiness of our buildings, fast, tailor-made space solutions and the location, which will help the company to streamline its delivery process from Germany to other European countries. Bosch and CTP also share a vision of doing business sustainably."
Bosch's decision to relocate to CTPark Bor was further supported by the high quality facilities of the industrial warehouse and the use of the latest technologies, including charging points for electric vehicles. In addition, CTP provides its clients with these services: sports facilities, canteens, accommodation, accessible medical care and support in finding new workforce. Bosch will now employ around 100 people in its ware-houses.
The German engineering and technology company Bosch operates in more than 60 countries, its products are sold in 125 locations around the world and its workforce amounts to 500,000 employees. Besides Bosch, CTP's portfolio includes other hi-tech tenants, such as Autoneum, ABB, Thermo Fischer Scientific, Honeywell and Garrett Motion.
CTPark Bor
The Bor park is one of the largest industrial parks in the Czech Republic, with a total area of 135 hectares. It is located on a highway near Tachov, around 15 km from the German border and 50 km from the city of Pilsen. The park offers facilities for manufacturing, storage and logistics as well as accommodation for the employees of local companies. In total, the Bor park provides approximately 3 500 jobs. Construction hav-ing started in 2005, the park is being continuously expanded with both additional industrial properties and residential and service facilities. Employees can already benefit from several restaurants, a medical centre, training and meeting rooms as well as sports and recreational facilities. Current tenants of the park include Primark, DHL and TechData. The largest tenant of the Bor complex is LOXXESS Bor, which leased 60,500 sqm of space in autumn 2020. It was the largest transaction of last year.
Bosch Group
The Bosch Group is a leading international supplier of technology and services. Its activities are split into four areas: mobility solutions, industrial technology, consumer goods and energy & building technology. As a leader in the Internet of Things, Bosch offers innovative solutions for smart homes, smart cities, connect-ed mobility and connected industry. The Bosch Group comprises Robert Bosch GmbH and approximately 440 subsidiaries and regional companies in more than 60 countries. The company employs 72,000 R&D staff at 125 locations worldwide. 90% of all Bosch shares make up the budget of the Robert Bosch Foundation, which holds the title of Germany's largest foundation and one of the ten largest organizations of its kind in the world. The foundation donates funds for the advancement of science and medicine and provides humanitarian aid and support for education.