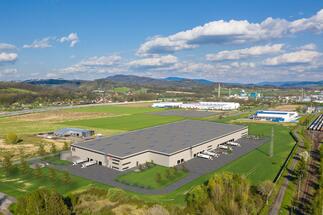 The third fund of the Arete Group, which has been focusing on high-quality industrial and logistics assets in the CEE region for a long time, is starting the construction of a logistics complex in Valašské Meziříčí. A total of 21,000 sqm of premium rental space will be created and the total investment will exceed €15 million. Upon completion, the entire park will also have BREEAM certification and meet the latest environmental conditions and standards in the area of the long-term sustainability of the entire project. Completion of the first two phases of construction, which are already in the pipeline for the logistics company DB Schenker, is planned by the end of 2022.
"One of the core components of our third fund strategy is the construction of new production and logistics parks. In doing so, we are responding to the relative shortage of high-quality, affordable, completed parks. Our ability to execute new construction with our own team and within our investment fund sets us significantly apart from our competitors. And it is by no means speculative construction. The first two phases of the park already have a future tenant, DB Schenker, a leading logistics company. Especially at this time, we highly value the credibility and very strong background of the key tenant in this new park. It is also very important that the future tenant has committed to signing a really long lease agreement. We would like to move the tenant into the first two phases of the park by the end of this year," said Lubor Svoboda, co-founder of Arete.
The international logistics company DB Schenker plans to operate a distribution centre for a major coffee producer in one of the halls. From this centre, logistic company will supply the production with input material and also store finished products. The second hall will be prepared for new logistics projects in the region and also for a possible further expansion of the key tenant.