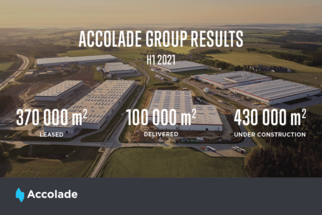 In the first half of 2021, Accolade has achieved a lease of 370,000 sqm of modern and sustainable space to tenants in the e-commerce, logistics, and light industry sectors. The company has also been very active in expanding its current industrial parks and investing in new projects. Almost 100,000 sqm of warehouses have been completed and a further 430,000 sqm of modern industrial space, worth more than €400 million, is under development. 
"We are in a period of a stable demand for industrial real estate, with high-quality industrial buildings strengthening their position as the most sought-after asset among commercial real estate. The value of industrial properties is increasing across Europe. We anticipate that, mainly through e-commerce, the growth rate of new, modern, and sustainable industrial buildings will not slow down significantly. We don't want our growth rate to decelerate either, as there is a continuous interest from tenants demanding more warehouses," emphasized Milan Kratina, CEO of Accolade. 
Accolade Group's decision to invest in modern and sustainable industrial properties, that offer flexible solutions for tenants from different sectors, is paying off. Companies can adjust the premises to their needs, while their business continues to grow with their modern building. Thanks to this approach, Accolade Group has leased almost 370,000 sqm in the first half of 2021 to major brands from logistics (e.g., InPost, Fiege, Prime Cargo, PDC Logistics), e-commerce (e.g., Tchibo, AutoDoc, ) and light industry (e.g. Faurecia).  
"Our industrial real estates are very environmentally friendly compared to other premises in Europe and across the world. Thanks to our flexible approach, we can easily adapt to the needs of different businesses, as we stand ready for further expansion in the coming years," adds Milan Kratina, CEO of Accolade. 
The largest lease agreement of almost 46,000 sq m concerned an industrial park in Szczecin, Poland, signed by Autodoc, the market leader of the automotive spare parts industry in Poland. Other lease agreements were successfully signed in the following locations in Poland: Zielona Góra, Gorzów Wielkopolski, Goleniów, Legnice, Szczecin Kniewska, Bialystok; in the Czech Republic: Brno, Cheb, Zdice, Stříbro, Kojetín, and in Slovakia: Košice. 
The Polish market with industrial real estates for modern business is one of the key and stable markets in Europe with attractive prospects. The value of Accolade property in Poland exceeded half a billion eur in the first half of 2021. Accolade plans to invest another €264 million in the coming months and years, mainly in new industrial parks in strategic areas of industry, e-commerce, and warehousing, e.g. in the cities of Bialystok, Szczecin, Gorzów Wielkopolski and also in the completely new locations of Elblag and Koszalin.