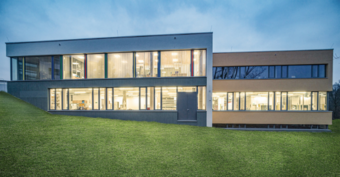 The ten-meter Ingeteam operating building was built on an area of ​​520 square meters in the MSIC (Moravian-Silesian Innovation Center) complex near VŠB-TU in Ostrava-Poruba. "The reinforced concrete monolithic building was sensitively set into the surrounding landscape and the new premises are connected to the original building of the company by a passage. The dominant elements of the operating building are large windows with a color division, "says Tomáš Hess, sales director of HSF System, which was the general contractor for the construction.
The three-storey building has expanded its production capacities and premises for the development and testing of Ingeteam's own solutions and products, which is engaged in complex projects in the field of industrial automation and robotics in Ostrava.
Development of mechatronic and robotic solutions, development of Industry 4.0 applications, use of virtual and augmented reality and 3D printing
"The R&D center occupies about a third of the new building. The main research and development projects include, for example, the development of mechatronic and robotic solutions, the development of Industry 4.0 applications, the use of virtual and augmented reality and 3D printing, "describes some of the activities of the research and development center Tomáš Marten, CEO of Ingeteam. are used for the production of electrical switchboards, which is directly related to our design activities. "
The new research and development center offers applications mainly for robotics experts, electrical designers, machine designers and IT programmers. Further expansion of cooperation with the Faculty of Electrical Engineering and Informatics at VŠB-TU Ostrava is also expected. The project of the new operating building of the company Ingeteam cost about 40 million crowns. Ingeteam a.s. from Ostrava is part of the multinational Grupo Ingeteam group with more than 4,000 employees in 25 countries.
Source: // Systemy logistiky