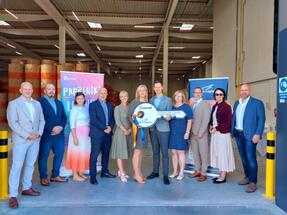 Here, Yusen provides comprehensive storage services for Mondi, including, among other things, unloading of material coming from the production plant in Štětí, internal handling and loading to target customers.
In addition to warehouse processes, Yusen also provides shuttle transport between the production plant and the warehouse for partner Mondi. When the ramp is completed, the daily volume will be approximately 500 tons of material transferred from the production plant to the warehouse, and the same volume will be the daily dispatch to Mondi's customers on weekdays.
Handling of paper rolls by electric VZV with hydraulic tongs
The warehouse building with a total area of 15,000 m² includes 300 m² of office space and facilities for employees, 24 unloading docks and 2 drive-in docks. 20 employees will take care of the operatives of the warehouse, with operations also on weekends and holidays. The entire area of the warehouse is used for block storage of material in stacks of rolls stored up to 6 meters high. The rolls are handled by a technique adapted to this, specifically frontal electric trolleys with an additional device – hydraulic tongs. It is possible to transport 2 rolls up to a total weight of 2.6 tons in one move. All material movements are monitored using scanners ensuring online communication with Yusen's warehouse system - Scale. This system enables a wide range of configurations that bring efficiency in material storage and warehouse operations, in addition, it also offers clear data visualization, providing an immediate view of operational KPIs.
Hynek Staněk, Managing Director of Yusen Logistics (Czech), says about the start of cooperation with Mondi: "For our company, this is a fundamental step in further development, and it is binding that we are starting a new cooperation with such an important company as Mondi. We want to bring our long-term knowledge and experience in the field of logistics to this partnership, with the aim of improving the customer's logistics flows and thus participating in its further growth."
Mondi Štětí is the largest manufacturer of kraft paper and pulp in the Czech Republic and one of the largest players in this field in Europe. In Štětí near Lovosice, it produces sustainable paper materials such as: sack paper, machine smoothed paper or paper with recycled content. "Mondi's vision is to contribute to a better world. We produce innovative packaging solutions based on paper, which is a sustainable material for the present and the future. In fulfilling it, we therefore strive to continuously modernize and look for more effective solutions and procedures. Opening a new warehouse with modern equipment and services is one of these steps. It will enable us to further expand production and take a significant step on the way to a long-term sustainable system not only of production, but also of logistics services and the entire supply chain," says Ilona Lipovská, Supply Chain Manager. And he adds: "We are happy to have entered into cooperation with a partner who is recognized as a pioneer in the field of logistics solutions and services. At the same time, he understands our needs, shares our vision and has the capacities and know-how we need to achieve our ambitious goals. We believe that even with this step we will offer our customers even better products and services."