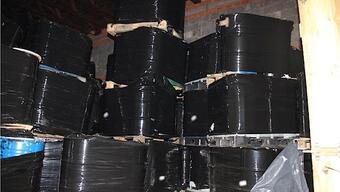 The town of Frýdek-Místek has completed the removal of all waste to the incinerators, where they will be disposed of. The costs have reached eight million crowns and the city is gradually paying them from its own resources.
Waste was gradually removed from the warehouse by several dozen trucks. "The area is empty at the moment and we just handed it over to its owner. So the state of emergency ended, "said Michal Pobucký, Mayor of Frýdek-Místek.
If we did not, we would violate the law ofMichal Pobucky, Mayor of Frydek-Mistek
The fact that a large number of barrels, mostly flammable, are stored in the building, was brought to the attention of the property owner in January. Originally, he rented the warehouse with the construction machinery being stored there, but after some time he found that the premises were full of barrels of unknown content. Similar warehouses were revealed in Bohumín at the same time, but the city left the liquidation at the owner or the vineyards.
As explained by the Mayor of Frýdek-Místek, the Czech Environmental Inspectorate, together with the water authority, declared a situation of threat after the situation was discovered. "That's the difference from Bohumine, why we had to do this. If we did not, we would break the law, "added Pobucky.
According to him, negotiations are currently underway with the Ministry of the Environment, which could cover the city's costs. "At first it seemed that the region could also participate in the reimbursement of its crisis fund, but that would be possible only in the case of an unknown offender. But in this case the police have uncovered the culprits, "added Pobucky.
The police case clarified a month ago. The head of the group was a 52-year-old Pole who was driving the well-organized gang. Concurrently he was in the Czech Republic detained a 31 years old man from Opava, at which the court has imposed binding.
Source: www.novinky.cz