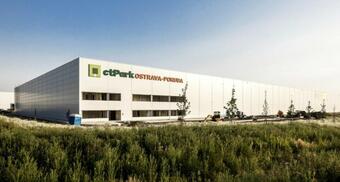 CTP is preparing facilities for ViaPharma in CTPark Brno Líšeň, with an area of almost 16,000 square meters, and in CTPark Ostrava Poruba with an area of over 11,000 square meters. The new warehouse for ViaPharma will be the fourth pharmaceutical warehouse in Ostrava under the banner of developer CTP. He has already built this type of space for UPS Healthcare in CTPark Ostrava Poruba and in CTPark Ostrava, where Alliance Healthcare also rents a pharmaceutical warehouse.
"Pharmaceutical warehouses always require a number of special modifications, with which we already have extensive experience in the CTP portfolio. This is also evidenced by this excellent cooperation with the company ViaPharma, with whom we concluded a package deal in two Czech locations for the next 20 years after Romania. I really appreciate that ViaPharma belongs to our client family and that we can grow together across the entire CTP network," emphasizes Jakub Kodr, CTP's sales director for the Czech Republic.
The developer established cooperation with ViaPharma as early as 2020, when he built for it the largest pharmaceutical warehouse in Romania with an area of 35,000 square meters, specifically in CTPark Mogosoaia. In the following years, the company expanded its scope to two more warehouses in Romania and has now established cooperation with CTP in the Czech Republic as well. In both new Czech locations, ViaPharma will use the premises as facilities for various types of medicines, food supplements, dermocosmetics and products related to clean households. The assortment composition of products requires specific modifications of warehouses, in which spaces must be divided for different sections requiring special temperature storage, i.e. zones with cooling, with controlled temperature and humidity. It goes without saying that both warehouses have a high level of sustainability in accordance with the requirements of BREEAM certification.
"The strong economic background of Central and Eastern Europe has supported the expansion of our business, and we believe that this will continue to be the case in the years to come. We value cooperation with CTP because they build energy-efficient logistics properties according to our needs and then continue to own and manage them for the long term. It creates a permanent relationship between landlord and tenant, and CTP thus deeply understands our requirements, which is invaluable, given that we are expanding our scope across Europe," comments Jan Žák, CEO of ViaPharma, on the collaboration.
ViaPharma has been operating on the Czech market since 2013 and is currently one of the largest domestic distributors of medicinal products. In addition to the fact that its main customer is the pharmacy chain Dr. Max, also supplies pharmaceuticals to hospitals, reproductive clinics, hospices and homes for the elderly. Thanks to warehouses with state-of-the-art technological equipment, they provide pharmacies and hospitals with a complete supply service.
CTPark Brno Líšeň was built by CTP in the premises of the former Zetor complex and is an urban industrial-commercial park which, after the completion of the current phase, will cover more than 160,000 square meters. The production-logistics CTPark Ostrava Poruba covers a built-up area of 88,000 square meters, with the developer planning further construction. The entire park should be completed by mid-2024 at the latest.