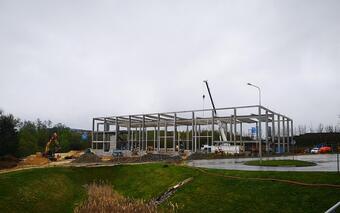 The tenants of the new hall will be DHL Express, which will lease 1,113 square meters, and Verhoek Europe, with a total of 2,170 square meters of logistics space. The expected date of completion of building E and its handover to use is in September this year. The building is realized in the level of green certification BREEAM Very Good.
"We always try to choose a strategic location for our parks. VGP Park Plzeň, located in a significant commercial and industrial part of the Pilsen region, is no exception. The location has excellent connections to neighboring Germany and is also very well accessible by public transport from the center of Pilsen," comments Petr Kovařík, VGP's commercial officer, adding: "Close cooperation with future tenants DHL Express and Verhoek Europe allows us to build really tailor-made for their specific needs."
The international carrier DHL Express is a subsidiary of the German Deutsche Post DHL group. It was founded in 1969 and provides international express, courier and logistics services. It currently holds the top of the world's largest logistics companies with operations in more than 220 countries and regions. Verhoek Europe is also one of the renowned providers of logistics services. The company was founded in 1953 in the Netherlands and its distribution services cover almost the whole of Europe. He has been working in the Czech Republic since 2005.

"The modernization and expansion of service centers are in line with the gradual renewal and strengthening of the DHL Express infrastructure in the Czech Republic. After the construction of a new terminal in Brno at the airport in Tuřany and a new branch in Karlovy Vary, I am excited as a local patriot that a new branch in Pilsen has come next. This is a strategic location in VGP Park and I believe that it will bring additional benefits for our customers and the possibility of convenient handling of a larger number of shipments and expanding the operation of our service by several tens of minutes a day," says Luděk Drnec, CEO of DHL Express (Czech Republic). ).
VGP Park Plzeň is located on the southern edge of the West Bohemian metropolis near the Olympia Plzeň shopping and entertainment center. Its current tenants include major companies and employers from all over Pilsen, such as Faiveley Transport Czech, Assa Abloy ES Production, Transtechnik CS, Excell Czech and Copo Téxtil Portugal. In addition to the strategic location of VGP Park, tenants also appreciate the highly qualified workforce, which Pilsen, as the fourth largest city in the Czech Republic, has thanks to many vocational high schools and universities.
Source: // Retrend