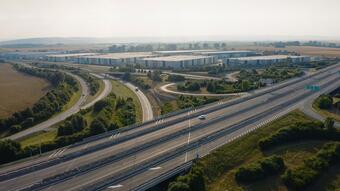 The company currently occupies space in warehouse J, where it leases 14,000 m2. As the company requires additional space the current premises are no longer suitable, therefore the company decided to relocate into the new warehouse, where it will lease 26,780 m2 of warehouse space. The hall will be completed and put into use in April next year.
"Closing the new lease agreement and launching construction of another hall is a significant step in the development of VGP Park Olomouc. Currently, the park is three-quarters occupied, and we are negotiating with another serious potential new tenant," comments Šárka Havlíčková, commercial officer at VGP, adding, "We are happy that we can offer to Ardon Safety new premises within the same park that will accommodate the company's capacity requirements and enable its further expansion."
Ardon Safety is one of the most important wholesalers of workwear, footwear and protective work equipment in Central Europe. For many years it has been analysing workplace risks facing people in various industrial and services sectors. In addition to producing its own workwear, it also sells a range of products from the world's leading manufacturers.
VGP Park Olomouc covers nearly 48 hectares and offers 213,800 m2 of lettable space suitable for logistics or light manufacturing. With its location in close proximity to Olomouc, at exit 37 of the R46 expressway, it offers excellent accessibility from both the city centre and surrounding areas, as well as excellent connections to Brno and Ostrava, and surrounding countries.