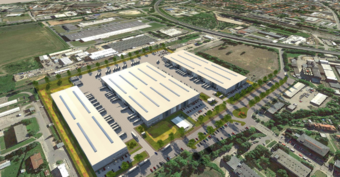 "Both parks are about 30 minutes away from each other and are located near the D1 and D46 motorways, enabling quick connections to Prague, Brno and Olomouc, as well as neighboring countries. In addition, an important railway line passes through Prostějov and Vyškov. In both locations, I can highlight their strategic position in the center of Moravia, which is advantageous for OKAY both because of transport accessibility and for its qualified workforce benefiting from a long-term industrial tradition," comments Šárka Havlíčková, VGP's commercial officer.
Key aspects for growth: strengthening storage and logistics capacities
"We see a huge opportunity in the market for further growth and strengthening storage and logistics capacities is key to this growth. We do not want any marginal and technically obsolete warehouses, but the best and most modern premises and technologies so that we can speed up the processes of warehousing and delivery of goods to stores and end customers. Thanks to the strategic location of the warehouses in Vyškov and Prostějov, we will be able to cover the entire Czech and Slovak Republic significantly faster than before, "said Jindřich Životský, owner of OKAY.
"These transactions confirm the current trend where fast-growing retail companies, including e-commerce, need more warehouse space to grow their business. VGP offered high-quality logistics halls in excellent locations, which will further support OKAY's business activities, "explains Vít Zdráhal, head of representing landlords and tenants in the industrial real estate team from Cushman & Wakefield, which mediated the leases. Jiří Kristek, head of the industrial real estate and shopping park leasing team at the same company, adds: "We are pleased that such an important transaction was successfully completed, mainly due to the excellent cooperation with both companies."
VGP Park Vyškov is located in the northern part of the South Moravian Region, approximately 40 km from Brno in the Marchanice industrial area. It spreads over an area of ​​approximately 5.4 hectares with a leasable area of ​​28,199 m2, which is now fully occupied.
VGP Park Prostějov is established on an extensive brownfield
VGP Park Prostějov is being established on an extensive brownfield on the site of the former Prostějov Clothing Company with an area of ​​over 13.9 hectares. VGP plans to implement more than 46,000 m2 of leasable areas suitable for logistics or light production. Currently, 30,000 m2 is still available. Future tenants include ITAB Shop Concept CZ, twd CZ and OKAY.
Source:// Systémy logistiky