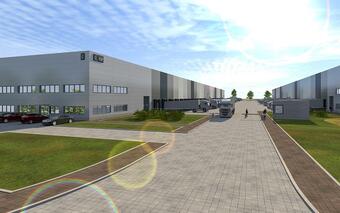 This will create several dozen new jobs in the region. VGP Park Prostějov enables the construction of a total of 46,600 m2 of leasable areas. The new production hall for the ITAB Shop Concept will be built to a high degree of green BREEAM Very Good certification. The building will be handed over for use in May this year.
"There is a long-term interest in logistics real estate in the Czech Republic, which has accelerated even more due to the coronavirus and Brexit pandemics. The transfer of ITAB's production capacities to the Czech Republic is proof of this. In the end, several factors decided on the choice of VGP Park Prostějov: The town of Prostějov is strategically located in the middle of Moravia, has a strong industrial tradition and enough qualified workers, "comments Petr Kovařík, VGP's commercial officer. priority, so we were able to offer the client such spaces that meet his specific production requirements to the maximum extent."

ITAB Shop Concept is originally from Sweden. It currently has 45 branches operating in 29 countries around the world. It operates a total of 20 production plants not only throughout Europe but also in China. It has been active in the Czech Republic for 29 years and has just decided to further expand with the lighting division.
"Operating in the Czech Republic has proven itself to us for a long time - strategic locations in the center of Europe combined with a qualified workforce are a good basis for the development of our business. Over the last few years, our company has experienced rapid growth, which has been reflected in the expansion of our product portfolio and the increase in the number of employees.
At the moment when we started thinking about moving the lighting division closer to our customers due to an even greater acceleration of the entire production and supply process, the Czech Republic was a clear choice. And the developer VGP met us to the maximum in our requirements for the implementation of new premises, which made the whole move much easier for us. We are currently preparing for a big move, which should take place this spring," says Aleš Zouhar, director of ITAB Shop Concept CZ, a.s.
VGP Park Prostějov is located in the eastern part of Prostějov, close to the train and bus stops. The stops provide excellent transport links to the city center and the surrounding area. At the same time, it is close to the D1 and D46 motorways, enabling fast connections with Prague, Brno and Olomouc, as well as neighboring countries. The extensive brownfield on the site of the former Prostějov Clothing Company has an area of ​​over 139,000 m2. VGP plans to implement more than 46,000 m2 of leasable areas suitable for logistics or light production.
Source:// Retrend