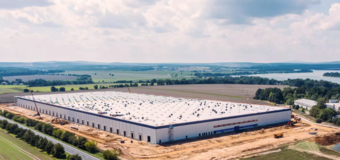 Goodyear will lease two new industrial halls as part of its Better Future Framework sustainability strategy. One in the Czech Republic in Cheb and the other in Amiens, France. In the pursuit of decarbonization, the company focuses not only on the optimization of logistics, but also on the development of new materials and technological procedures.
"I am very happy that we are building a state-of-the-art distribution center for Goodyear that will optimize the tire distribution network in Central Europe. Goodyear recently unveiled its vision for sustainable tires of the future. They won't be left behind with our building, it will include heat pumps, a photovoltaic power plant and charging stations for electric cars. The goal for BREEAM New Construction certification is set at the Outstanding level," says Pavel Sovička, CEO of Panattoni for the Czech Republic and Slovakia.
The operation at Panattoni Park Cheb East will make the transport of tires to customers in the Czech Republic, Slovakia, Germany, Austria, Switzerland more efficient, but will also facilitate the transport to the Nordic countries. By shortening the distance between distribution centers and the sales network, Goodyear promises not only more efficient processes and faster delivery times for end customers, but also a reduction of the overall carbon footprint, which will help achieve optimal sustainable measures.
The new hall with a floor area of 80,000 square meters, of which Goodyear rents 60,000 square meters, is aiming for the highest BREEAM New Construction certification rating of Outstanding. All new buildings in the Panattoni portfolio use energy-saving measures in terms of electricity, heating and water consumption. The new Goodyear hall is no exception. The roof of the building will be prepared for the installation of photovoltaic panels, heat pumps will provide economical heating, and the building will also have underground gray water tanks. Charging stations for electric cars will be located in the outdoor parking lot.
Cheb offers excellent transport connections within the whole of Europe. Nearby is the E42 road, which connects Prague with Nuremberg and thus provides a quick connection to Germany. In addition, there is also access to the l/21 road, which connects to the D5 highway, leading from Prague to Rozvadov. The availability of the railway corridor from Prague to Nuremberg is also an advantage. The container terminal in Hof is only 54 kilometers from the site (there are direct trains to ports in the North and Baltic Seas), and the international airport in Karlovy Vary is a 45-minute drive away. The railway line connects the border regions of Germany and the Czech Republic.
The relocation of supply chain activities is an important strategic step to further establish responsible operations within the Goodyear Better Future Framework and improved go-to-market logistics activities in the EMEA region enabled by the Panattoni Industrial Park in Cheb.