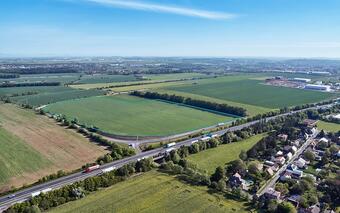 The new customer moves to a logistics space offering 12,000 square meters tailored and needed to ensure maximum business and operational efficiency. The company will have a number of innovative solutions, such as intelligent measuring systems or LED lighting, which are standardly used by all customers of Prologis buildings.
The logistics center in Prologis Park Prague-Chrášťany
Prologis Park Praha-Chrášťany, which is located in the district of Praha-západ, is a new attractive point on the Czech logistics map. The park provides perfect transport links to the capital, so it is located next to the highway leading directly to the metropolis and the metro line. Thanks to connectivity, this park will become one of the most optimal last miles of logistics bases in the Czech Republic.
In addition to the currently emerging building for the well-known international courier and delivery company, Prologis Park Praha-Chrášťany offers space for another construction with an area of ​​another 15,000 square meters.
"We are proud to be the first customer to welcome our entire new park with this important international logistics company," says Martin Baláž, vice president, country manager for the Czech Republic and Slovakia. "The high demands that our new customer places on the quality of conditions for the last mile of delivery and on the operational efficiency of your space confirm the excellent potential of Prologis Park Praha-Chrášťany. We are looking forward to the next phase of construction and the continuation of our cooperation with the customer after completion. "
Prologis Park Prague-Chrášťany is one of the most interesting logistics projects in the region and we can't wait for them to really come to life with the arrival of the customer planned for the summer. Whether it is a good location, higher efficiency or satisfied staff, the benefits are made in Prologis.
Source: // Retrend