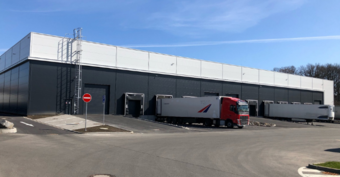 The Ostrava industrial area Industrial area NP, which is an example of successful revitalization of the brownfield area, has acquired another tenant - the Czech company Zásilkovna. "The strategic and attractive location of our industrial area and the excellent connection to the backbone roads played an important role," says Jan Hasík, CEO of Industrial area NP.
The depot serves as a transport hub for the distribution of consignments
Zásilkovna uses a new depot on an area of ​​4,100 m2, which serves as a transport hub for the distribution of consignments not only for the entire Moravian-Silesian Region but also for Poland and other countries. The Ostrava depot used for filing and dispensing consignments is one of 14 depots operated by Zásilkovna in the Czech Republic.
"By building new depots and modernizing them, we are responding to our long-term significant growth of tens of percent per year and ambitious goals for the coming years. Ostrava is one of the keys and strategic locations for us, and the new modern depot will significantly help us to react flexibly to the collection of consignments. This year we plan to open four new depots in the Czech Republic, in total we will have 18 at the end of the year," comments Jan Čižmar, COO Zásilkovny.
"At first we built the new building speculatively without a specific tenant, but during the implementation, we adapted the premises to the transport company so that we offer space of the highest quality and tailored to their specific requirements," says Tomáš Hess, sales director of HSF System, which logistics center as a general contractor.
The Industrial NP industrial zone in Ostrava-Poruba has a total area of ​​30,000 m2. At present, tenants use production and storage facilities on an area of ​​approximately 16,000 m2. The tenants also include the logistics company TNT Express Worldwide.
Source:// Systémy logistiky