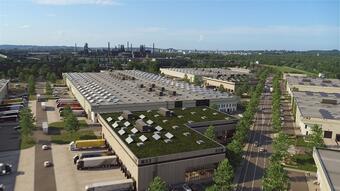 "More and more developers are realizing that for their further development it is not necessary to occupy agricultural land and build on a green field. Revitalizations of former brownfields are becoming more and more frequent; successful examples of such changes can be, for example, the Zetor sites in Brno or the Vítkovice or Hrušov areas in Ostrava. A great benefit of these projects is their attractive location, on the other hand, it is usually necessary to manage more complex administrative and construction processes. The pace of revitalization and construction of new projects is thus lower than the current growth in demand, which logically leads to a sharp rise in rental prices, "said Petr Narwa, Head of Transaction & Consulting Services.
In the vicinity of Prague, real vacancy is already approaching zero. And while last year around 5.00 EUR / m2 was paid per m2 of industrial space per month, now the current price is 6.00 EUR / m2, for smaller demands we reach the values ​​of 7.50 EUR / m2. Therefore, if companies manage to secure premises in these locations, they may face an increase in rent of up to 50% year-on-year.
"Within the Eastern European region, the Czech Republic is certainly a premium in terms of storage space per capita and km2. However, due to its location as a transit country and a logistical hub, we are also an e-shop power and without the construction of additional capacities, there is a risk of further rent growth due to the enormous demand. This will naturally be reflected in the total costs of the users of these premises, and as a result, most goods and products will become even more expensive for end customers, "said Jaromír Sachunský, Head of Research at Prochazka & Partners.
Attractive locations in the Czech Republic will also withstand the competition of Western countries, which can boast significantly more developed infrastructure. The surroundings of Prague have long been one of the most popular locations in the whole of Europe, and thus stand alongside the most important logistics hotspots in the Netherlands, Belgium and North Rhine-Westphalia. Nevertheless, the attitude of the local governments to further construction of this type is relatively skeptical, and a great development is currently taking place in previously secondary localities in the eastern part of the republic, such as the Olomouc or Moravian-Silesian region. Wherever possible, developers are not afraid of new construction, and this year the Czech warehouse and production real estate market will exceed the target of 10 million square meters.