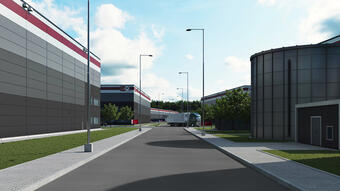 Halls A and B will cover an area of ​​almost 17,000 square meters out of a total of 64,000 square meters. At the same time as the development, an area road will also be created, which will freely connect to the surrounding industrial zone. P3 Plzeň Myslinka is an attractive location not only thanks to the short distance to Germany and the regional city of Plzeň via the nearby D5 highway, it can also benefit from the proximity of the railway terminal for container transport.
"We have already started landscaping and creating basic infrastructure. The halls will primarily be used for logistics, light manufacturing or retail. We decided on speculative construction, because we want to respond to the current lack of storage space and in this way we can deliver it in a shorter time, and especially within a clear deadline. The first tenants will be able to move into the new halls at the turn of March and April 2023, and although the summer is in full swing, we already have several interesting applicants," says Aleš Zacha, head of development at P3 in the Czech Republic.
The halls will aim for the high standard of BREEAM Excellent building certification. All exterior lighting of the buildings will be provided by LED lighting, which minimizes light smog. The roof of the halls is designed with regard to the possibility of installing solar panels and it is up to the tenant whether he will use this option. The buildings will be built from ecological building materials, which in the long term will have a minimal impact on the surrounding environment.
"The green concept has also become part of our sustainable standard. When building new parks, we pay attention to the preservation of the surrounding flora and its revitalization. In addition to greenery, we also try to use natural resources sparingly, for which we also use rainwater retention tanks," says development manager from P3 Tereza Nešlehová.
P3 is currently completing another speculative construction in Ostrava, where the first halls of the industrial park P3 Ostrava Central have already been built.