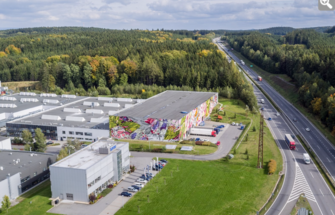 In Central Europe, CTP operates 100 industrial parks with more than 500 tenants who are leaders in their markets throughout the region. The company is also strongly focused on sustainability and wants to achieve operational carbon neutrality by 2023.
"The initial issue was successful because CTP was in the right place at the right time. Logistics real estate is currently on solid ground, especially in the region of Central and Eastern Europe, which has some of the most robust economic foundations. We also care about long-term sustainability, as evidenced by BREEAM certification for our entire portfolio. CTP's solid credit parameters were also appreciated by rating agencies and investors, the company received two investment-grade ratings from Moody's and S&P and managed to make its green bond debut despite turbulent market conditions," said Richard Wilkinson, CTP's Chief Financial Officer.
CTP opted for green bonds after committing in 2019 to certify its entire portfolio of logistics and industrial projects at the BREEAM Very Good level or higher. The proceeds from the issue will be used by the company to finance or refinance its portfolio of green assets in accordance with its own Green Bond Framework program and in the future for other eligible projects.
Despite the volatile market and the ongoing crisis associated with measures against the spread of the COVID-19 virus, CTP green bonds experienced strong demand, which enabled CTP to achieve attractive pricing and increase the issue by 150 million euros (approximately 3.15 billion CZK) compared to the original plan. This is the largest and at the same time the most demanded initial issue of bonds of a development company in the CEE region (the total value of demand exceeded two billion EUR, i.e. approximately 54.2 billion CZK).