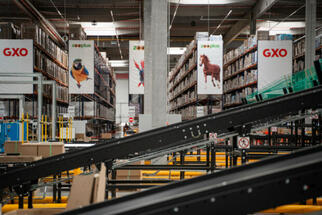 The logistics center in Bor u Tachova, whose building was built on its premises by the industrial developer CTP, uses, among other things, advanced automation solutions. "The new fulfillment center in the Czech Republic perfectly complements our existing logistics infrastructure and takes it to a higher level. Working with our trusted partner GXO gives us access to tailor-made technology and automation solutions, allowing us to respond more quickly and individually to different regional consumer needs. In this way, we improve our offer for pet owners and consistently take another step forward in our journey to create the best and most convenient destination for pet owners in Europe. Ultimately, we are moving our logistics network into a future defined by innovation and a firm commitment to customer-centric values," says Joost Bous, COO of zooplus, a major European online pet food retailer.
Richard Cawston, President of GXO Europe, adds: "We are delighted to expand our partnership with zooplus in Europe. Since 2018, we have been helping zooplus reduce delivery costs in the Iberian Peninsula. Thanks to our new center in Bor, equipped with state-of-the-art technology, we have all the prerequisites to support the growth of zooplus throughout Europe and improve access to key markets. We look forward to building on our stable partnership and continuously improving our services."
GXO's automated warehouse in Bor can manage an extensive assortment of 14,000 types of feed and other products, pick up almost three dozen shipments per minute and dispatch over 200,000 customer shipments per week, effectively covering the growing demand of zooplus customers in Central and Western Europe.
In connection with the environmental, social and ethical business principles of zooplus and GXO, the warehouse in Bor was built in accordance with the BREEAM standard. It is equipped with LED lighting and photovoltaic panels to increase energy self-sufficiency. Consideration for the environment is also reflected in the limitation and, in some cases, the exclusion of paper and plastic packaging. In the logistics center, automatic machines are used to reduce the height of almost 99% of the produced cartons, which not only reduces the dimensions of the packages, but also increases the efficiency of transportation and at the same time reduces CO2 emissions. In addition, the center supports sustainability by utilizing an intelligent battery charging system and advanced queuing processes for battery collection, reducing the total number of batteries required for material handling.
The distribution center in Bor employs around 200 people. Thanks to the use of advanced automation, the warehouse not only speeds up work processes, but also functions as a suitable environment for employees thanks to the implementation of ergonomic solutions. Local animal shelters are also supported through donated zooplus products.