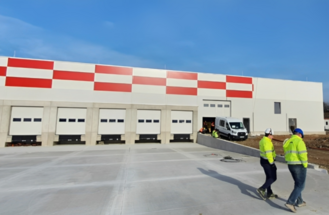 The new hall with a leasable area of more than 6,700 square meters boasts technical specifications that meet the highest requirements of environmental certifications. The entire park is being built with regard to the Arete group's ESG strategy. At the same time, the newly completed hall is the first object within the portfolio of the Arete Industrial fund, which is completely heated with the help of heat pumps.
"Our fund strengthens the share of new logistics and storage properties in the portfolio. We are glad that we managed to complete the construction of the new modern hall. Thanks to our development team, who have worked hard in recent months and demonstrated their high level of expertise. At the same time, Arete Park Rokycany I is attractively located right next to the D5 highway, which is an important traffic artery connecting Prague and Germany. At the same time, the proximity of the city of Rokycany means a sufficient base of skilled labor," says Robert Ides, co-founder of the Arete group. According to him, in the near future the company will start another construction in this area. When fully completed, the industrial park will offer tenants an area of more than twenty thousand square meters.
"As a tenant, we appreciate the high level of expertise demonstrated by the development team of the Arete group in recent months. The vision with which Arete intends to continue to manage the property and develop the location was a key factor why we decided to build a modern transshipment in Rokycany, which will significantly speed up the connection between Central Europe and Germany," adds George King, lease & facility manager at Raben Logistics Czech.