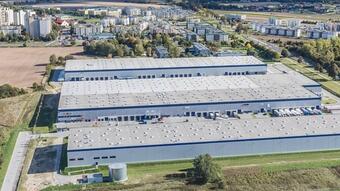 Accolade continues to grow with our northern neighbors and takes over two new parks. In the case of Lublin, this is the final phase of the completed construction and the fund has a total of 74,000 m 2 of rental space. The area for logistics, e-commerce and light production, located 260 km north-east of the Czech border, was chosen by companies such as DATA MODUL, Laboratoria Natura, Multivac or Specjal brewery. Rental buildings generate an annual lease of nearly 4 million euros (about 100 million crowns a year and newly + 31 million crowns). The park in Kielce, which is 70 km closer to the Czech Republic, is in its initial phase and the Accolade fund takes the first phase out of a total of 71,000 sq m .. Ten-year tenants are firms like Vive, Raben or Pekaes, and annual rent is nearly EUR 2 million (about CZK 50 million).
" Kielce is located halfway between Warsaw and Krakow, the two largest cities in Poland. Our presence in this desired location, the Polish market in general and renowned tenants, are the main reasons for investors to invest in the Accolade fund. Tenants value good locations, but also available workforce , "says Lukáš Répal, Chief Operating Officer of Accolade and Director of Poland . Kielce, perhaps an unfamiliar city for the Czech Republic, is interesting for tenants, among other things, thanks to the presence of the second largest exhibition and exhibition space in Central and Eastern Europe.
In Poland, where Accolade expanded three years ago, the Accolade Fund owns five parks and rents 280,000 m 2 of land. " Both parks complement our network of tenants in the west and north of Poland. Both Lublin and Kielce offer connectivity to the East outside the region, making them strategically important. The success we experience in the Polish market, where we already have the same size of space as in the Czech Republic, is the success of the entire Accolade team, "notes Accolade CEO Milan Kratina .
Source / photo: www.retrend.cz / Accolade Holding, as