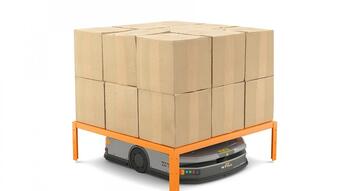 If even heavier loads need to be transported automatically, the ACH 15 variant can be selected. This most powerful of the three models also measures 1182 × 832 × 260 mm and is designed to transport loads up to 1500 kilograms. The loading and unloading height of both ACH 10 and ACH 15 is 290 millimeters. When loaded, both larger variants reach speeds of up to 1.2 m / s. The available loading area for the ACH 06 is 900 × 900 millimeters. The other two models have a loading platform measuring 1200 × 1200 millimeters.
All three models are powered by a lithium-ion battery. This can be charged very conveniently using the charging station that is part of the system. The trolleys are brought to it automatically as required.
Wide range of automation options
With these features, STILL AMR systems are a suitable solution for automated horizontal goods transport. State-of-the-art sensor technology enables ACH trucks to move independently, actively and safely in the warehouse - even in mixed traffic with people and other industrial trucks. The trucks transport a large number of different load carriers on their platforms and can be adapted to a wide range of transfer points. Depending on the requirements, AMR works independently or through connections to various software systems of the operators.
Environmental protection was also considered when designing AMR trucks. For example, their significantly lower dead weight compared to conventional automated warehousing solutions significantly reduces energy consumption. They also have very low acquisition, operating and maintenance costs. They can be economically integrated into existing environments and systems. Combined with good scalability and a high safety standard, the ACH series offers an attractive entry into automation for many industries in the supply of parts for manufacturing, automotive, logistics, medical production, clothing or electronics or e-commerce.