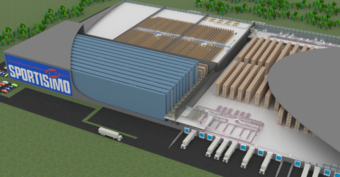 The contract between Sportisimo and SSI Schäfer has been signed in recent weeks. This is an important project supporting the growth and ambitions of Sportisimo. Design work is currently in full swing and the construction of the hall is also underway. The operation was to be launched in January 2023, which is a record short time for a similarly large and complex implementation. Sportisimo from Contera Park Ostrava D1 will serve stores and e-shops in the Czech Republic and the surrounding states of Central and Eastern Europe.
Maximum efficiency thanks to the latest technologies
SSI Schäfer will supply all warehousing technologies - both those for supplying brick-and-mortar stores and those for processing e-shop orders. The aim is to ensure maximum storage efficiency. "There will be more than 6,000 meters of conveyor systems manufactured by SSI Schäfer in the hall, which will connect the individual warehouse zones from depalletization, through the entrance to the mini-load warehouse, the picking mezzanine to the dispatch zone. There will be 150 workstations along the conveyor routes, where all orders and returns will be consolidated. The mini-load warehouse has a projected height of 23 meters and currently includes eleven aisles with a capacity of over 300,000 cartons. It is planned to add extra alleys in the future. This stacker will store crates and cartons coming directly from suppliers, "describes Marian Gono, CEO of SSI Schäfer Systems International.
He adds that a four-story pick tower will be built next to the mini-load. It consists of shelving with aisles. Within one central aisle, other conveyor technologies and workstations will be stored, where consolidation of selected orders will take place. There will also be a large steel mezzanine in the hall, which will be produced in the SSI Schäfer concern in Hranice na Moravě. There will be picking stations for the final packaging of orders and preparation for dispatch.
The proximity of the production hall reduces the carbon footprint
"From the beginning, we have tried to shorten the transport routes as much as possible when transporting material before assembly. That is why we make maximum use of our production plant in Hranice na Moravě, thanks to which we will significantly reduce our carbon footprint. Not only will we shorten the transport route, but we will also support the Czech economy," states Marian Gono.
Source: // Systémy logistiky