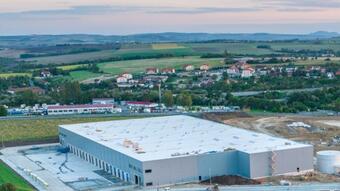 "The branch in Brno will increase our operational capacity and allow us to expand our range of services. This will have a significant impact on the future development of our network of international and domestic LCL transport and contract logistics in the region," says Jiří Chládek, Managing Director of Röhlig Suus Logistics for the Czech and Slovak Republics, noting that the position of the Czech Republic as an important logistics center is constantly growing and the country it belongs to the most important partners of Poland in terms of export and turnover of goods.
Each of the new logistics operations of Röhlig Suus Logistics meets high environmental standards and has BREEAM certification. Photovoltaic panels and a special rainwater collection system will be installed on the roofs of the Brno warehouse, which will enable its reuse, among other things, for the purpose of caring for the greenery surrounding the building. Electric car chargers will be available on site and the company will also use forklifts with lithium-ion batteries.
The company's Czech representative office recorded a 56% increase in sales last year. Current investments in the country will make it possible to expand the portfolio with a complete contract logistics service, including e.g. e-commerce services, LCL handling and distribution of shipments throughout the Czech Republic and to neighboring countries. The Brno branch will create new jobs for around 30 employees.