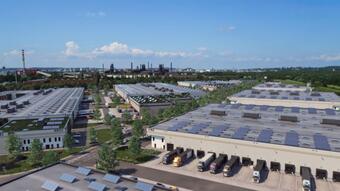 The Danish company Tefcold will place complete facilities - warehouses, service and offices - in the industrial and commercial district P3 Ostrava Central. The premises will primarily be used to store cooling and freezing gastro equipment, heat pumps and air conditioners or cooling technology used in healthcare and laboratories. Among other things, it will be possible to find a spare parts warehouse, a service workplace and also a showroom here.
"The area leased to Tefcold in hall L1 is a total of 8,000 square meters. More than 87% is storage space and the remaining 1,000 square meters are high-end bespoke offices. The park is well connected not only to local traffic, but also to the urban public transport network," comments Aleš Zacha, Head of Development at P3 Logistics Parks for the Czechia. In the future, public transport stops and a new bike path are planned in the area, so employees will have no problem getting to work comfortably.
"As our company grows, the need for a new headquarters arose. We were looking for one that would allow us to operate flexibly with the delivery of goods, where we would be able to create a background for quality service and at the same time move all the administration and company management there. The P3 company park in Ostrava offers us the opportunity to settle in modern premises in a location with great potential. The location of the park gives us considerable flexibility in terms of availability, both for our employees and our clients. We are happy that we found a suitable place and that the premises were adapted to our needs," says Andrea Steckerová, director of Tefcold CZ.
The transaction was mediated by Martin Nenička from the real estate consulting company 108 Agency, who adds: "Just like the quality of the premises and an attractive location, the tenants also think about the best possible conditions for their employees. This is also the case with the company Tefcold, which connected office, service and warehouse functions at a high level in the P3 complex in Ostrava's Vítkovice. It is actually a technology showroom created by the tenants to measure, which further pushes the standard of industrial real estate."
P3 Ostrava Central will be located on a total area of ​​almost 160,000 square meters in the Lower Vítkovice region. The industrial-commercial complex will consist of 16 buildings that are designed with respect to the environment and correspond to the BREEAM Excellent certification. The brownfield project is being built on 44 hectares that once served as a raw material dump. Now the entire district, according to the design of architect David Kotek, will complement the missing urban structure in connection with the surrounding buildings and greenery. Tefcold's "neighbors" will include, for example, Linde Material Handling Czech Republic.