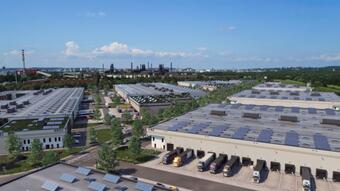 The PNS premises in P3 Ostrava Central will include 1,700 square meters of storage space including an outdoor shed and 300 square meters of custom-made offices. They will be ready for occupancy at the end of the first quarter of next year. "I am very happy that we are deepening our cooperation with PNS, which has been successfully renting space in P3 Prague Horni Počernice for many years, and I believe that it will also find exactly the kind of facilities it needs for its development in P3 Ostrava Central," says Aleš Zacha , head of P3 Logistic Parks development in the Czech Republic. "So far, we have leased almost 15,000 square meters in our park in Ostrava and acquired four interesting tenants from various industries. We are going to continue the current trend," adds Tereza Nešlehová, development manager of P3 Logistic Parks.
Ondřej Vaňha, vice-chairman of the board of PNS, comments on the choice of new premises: "P3 Ostrava Central is an ideal location for us, especially thanks to the good connection to the main traffic routes, which are crucial for us in view of the time-consuming nature of press distribution. Among other things, we will place our sorting line in the new premises, which will sort out more than 150,000 pieces of magazines and newspapers during the night. The new premises will also serve as a distribution center for more than 2,000 of our sales points."
Park P3 Ostrava Central is located in the Lower part of Vítkovice. Upon completion, the 44-hectare site will offer 157,000 square meters of rentable space and another 130,000 square meters of greenery, including relaxation zones and plant-covered facades. The brownfield site is ready for both custom construction and speculative construction. From the beginning of 2022, all newly built P3 halls strive to meet the sustainable standards of BREEAM Excellent certification. A number of sustainable solutions in the park include, for example, energy-saving LED lighting.