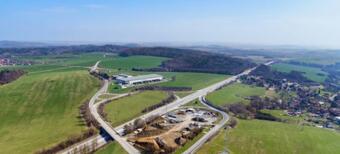 The first construction will be a distribution center with a total area of ​​8800 square meters, it is currently under construction. Of this, 4,123 square meters of first-class logistics space have already been pre-leased by Zeppelin CZ, a dealer of Caterpillar construction, agricultural and mining machinery. Land for buildings 2 and 3 with planned areas of 21,000 and 13,000 square meters, respectively, are ready for the immediate start of construction.
All buildings in the park will also meet the highest standards of sustainable development. They will be equipped with LED lighting and have the possibility of solar water heating in office spaces. Other sustainable solutions will include intelligent metering systems supplied as standard in all Prologis properties, enabling more efficient use of energy and stronger wall and roof insulation. Upon completion, the new building with tailor-made premises for Zeppelin CZ, as well as all newly built Prologis projects, will undergo accreditation according to the BREEAM methodology.
"The start of construction at Prologis Park Prague D1 Ostředek is an exceptional moment for our entire team," says Anna Jůzová, Prologis' Leasing and Customer Experience Manager. "In the new development, the first half of which is leased by Zeppelin CZ and the second part of which is immediately available to those interested in new premises, we will provide tailor-made logistics facilities that will be ideally located for access to major Czech and international markets."
"The new premises in Prologis Park Prague D1 Ostředek, together with the online order, will enable us to speed up the entire process of supplying spare parts to clients in the Czech Republic, Slovakia and Austria," says Stanislav Chládek, CEO of Zeppelin CZ. "We are excited to be the first customer in this brand new park, which is undoubtedly located in one of the most sought-after places on the Czech logistics map."