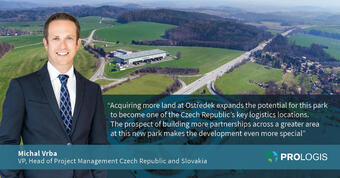 Now, we've taken the potential of the park to a new level by acquiring more land on the other side of the highway running through the site. The addition of another 7.15 hectares with potential development space of 27,000 sqm will take the total park area to 196,000 sqm. This will allow the park to provide even more development opportunities beyond the impressive 8,880 sqm building DC1 currently under construction.
It follows the partial leasing of building DC1 to Zeppelin CZ, a dealer, service provider and spare parts distributor for Caterpillar construction, agricultural and mining industry machinery, whose tailor-made space will take up half of the building.
"Acquiring more land at Ostredek expands the potential for this park to become one of the Czech Republic's key logistics locations," said Michal Vrba, Vice President, Head of Project Management Czech Republic and Slovakia at Prologis. "We are already very excited to welcome Zeppelin CZ to their new home, and the prospect of building more partnerships across a greater area at this new park makes the development even more special."
Through expansions such as our latest land acquisition in Ostredek, we can provide more prime logistics space for businesses in the Czech Republic, building connections with local communities while making sure everyone at our parks enjoys coming to work thanks to our PARKlife™ initiative. Whether it's breaking new ground, welcoming new customers or helping businesses grow, opportunity is… Made in Prologis.