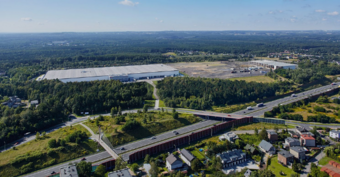 Total Central European portfolio:
4.2 million square meters (Poland, Czech Republic, Slovakia, Hungary), of which 1.27 million square meters in the Czech Republic;
The total occupancy in 2020
reached the level of 94.5%, at the end of 2019 it was 95%. In the Czech Republic, it reached 94.5% compared to 96.1% at the end of 2019.
Rental activity in the region
in 2020 covered 1.74 million square meters, which is 27% more than in 2019. Lease activity covered 467,100 square meters of new leases and 820,100 square meters of extended leases.
The concluded contracts
on the Czech market covered premises with an area of ​​408,000 square meters, which is a 60% year-on-year increase. The concluded contracts consisted of 82,700 square meters of new leases and 221,700 square meters of extended leases.
Construction started and completed
In 2020, the construction of four buildings with a total area of ​​114,700 square meters was started, of which 81.5% were built-to-suit (BTS). The construction of seven buildings with a total area of ​​180,400 square meters was completed, including one building on the Czech market with an area of ​​20,883 square meters.
Acquisitions and sales
Acquisition of 13 hectares of land for the construction of two new buildings with a potential leasable area of ​​60,000 square meters in Prologis Park Budapest-Sziget II. Acquisition of a 12-hectare plot of land with the potential for the construction of 14,500 square meters in Prologis Park Prague-Chrášťany. Sale of building 3 in Prologis Park Nitra with a total area of ​​37,800 square meters. The building was acquired by a buyer who had previously purchased the DC1 and DC2 buildings in the same park.
Sustainable construction and innovation
Prologis has been guided for decades by clear commitments in the areas of environmental approach, social responsibility and governance (ESG). We implement innovations from the Prologis Labs workshop directly into buildings, increase environmental standards, ensure the protection of biodiversity in localities and build parks that bring lasting benefits to local communities. In collaboration with the climate change charity Cool Earth and The Planet Mark, a sustainability certification company, it also reduces life cycle carbon emissions from all its new buildings across Europe.
Other activities in 2020:
Research: A series of special reports on covid-19 Research: Automation and logistics real estate - the first part, the second part Launch of the
Prologis Essentials Marketplace
platform Partnership with Cool Earth: Reducing the lifetime carbon footprint of all new buildings Fourth Quarter and Full Year 2020 Global Press Release Prologis named the most famous logistics real estate brand in Europe in 2020 Paweł Sapek appointed Prologis Regional Director for Central Europe
A customer Experience Team
(CET) was established in Prologis Park Bratislava and is composed of experienced professionals.
Source:// Systémy logistiky