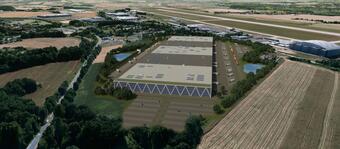 "I see the first Panattoni project in Ostrava as a great responsibility. The local economy has already suffered many blows, and after the structural ones this year came a covid blow. I believe that future users will appreciate, in addition to the proximity of the international airport, the planned connection to the capacity railway siding directly on the premises, and that Panattoni Park Ostrava Airport will bring another positive impulse to the region. Last but not least, the construction and equipment of the buildings itself is an opportunity for a number of subcontractors from the Ostrava region," said Pavel Sovička, Panattoni's General Manager for the Czech Republic and Slovakia.
Panattoni Park Ostrava Airport stands out with its exceptionally high-quality and diverse transport infrastructure. It will use the synergies of the international airport, the D1, D56 and I/58 roads and, in the future, also railway transport. Thanks to the planned container railway terminal, a so-called multimodal complex will be created in the locality, which will offer unique logistics capacities and possibilities.
Furthermore, in line with Panattoni's long-term Go Earthwise strategy, the project will create an environmentally and civically friendly environment. The area will be designed so that its operation minimizes the impact on the environment, including the so-called carbon footprint, and benefits the local community. It is a unique concept that combines a civic environment and a state-of-the-art industrial zone.
Source:// LogisWeb