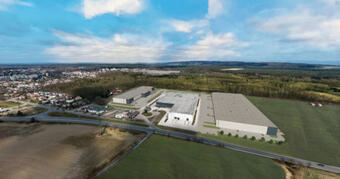 The remaining 8000 square meters in the first hall and the second hall with a size of 9000 square meters, which is already under construction, represent strategic leasable premises for the development of the Rychnov region.
"Eastern Bohemia is home to many very successful e-commerce companies operating very popular e-shops. We are glad that we can help their development in the Rychnov region by building storage capacities and logistics infrastructure, which is desperately lacking in Eastern Bohemia. C.S.CARGO is one of the leaders in the Czech logistics sector, so we look forward to cooperation and further joint growth. I believe that the vacant space will be attractive not only for the e-commerce sector but also for the subcontractors of Škoda Auto, which has a production plant in nearby Kvasiny, "says Pavel Sovička, Panattoni's director for the Czech Republic and Slovakia.
The C.S.Cargo Group continues to expand its warehousing services. "This time, we are preparing a consolidation of the logistics service for a major Czech brand of household appliances, Jindřich Valenta - Concept, for the recently opened warehouse in Planá nad Lužnicí. With this step, it will strengthen its operations and at the same time enable a more thorough development of its distribution towards customers. We respond adequately to this and create suitable conditions for its more efficient logistics. After analyzing the situation, we chose a space near the company's headquarters. We know from experience that this is a great added value for clients today, "describes the planned cooperation Michal Vecsey, Sales Director of the C.S.Cargo Group.
The history of Panattoni Park Týniště began eight years ago when the industrial real estate builder Panattoni built a custom production hall for Assa Abloy. The current construction of two new halls is the first joint project of Panattoni and the DRFG investment group, which focuses on investments in real estate, telecommunications and financial services.