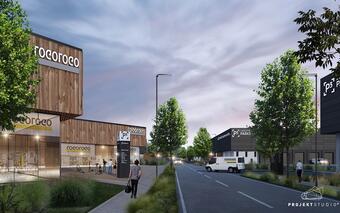 "In recent years, we have strategically focused on dynamic growth, investing in new locations and expanding our portfolio. This has enabled us to fundamentally strengthen our position in Europe. We owe the award especially to our great team, whose main goal is to fulfill the wishes of our customers and the local communities in which our parks stand. Two hundred experts emphasize the fulfillment of promises, whether they relate to the quality of logistics real estate or customer service from A to Z with a human face. These awards are proof that we are doing a lot of things right and we can be justifiably proud of ourselves for it, "says Sönke Kewitz, Director of P3 Logistic Parks in Germany.
Every year, the European Real Estate Brand Institute awards the REAL ESTATE BRAND AWARD to the strongest brands in the European real estate market for their achievements in the field of brand management and positioning. The expert opinion of more than 109,000 experts evaluating 1,400 brands from 45 European markets serves the Berlin Institute as the basis for the most prestigious Real Estate Brand Value study, which was published for the thirteenth time this year.

P3 - Real Estate Brand Award - Strongest Brand Growth
"On behalf of the European Real Estate Brand Institute, I would like to congratulate P3 Logistic Parks on this award. Increasing brand performance across all evaluated criteria is a real success, "says Harald Steiner, CEO of the European Real Estate Brand Institute.
This year's gala evening with the award ceremony for the strongest brands was accompanied by TV presenter Barbara Schoenebergerová and Harald Steiner. The event with the motto "Disruption meets Resilience" focused on the drivers of the industry - employer branding, ESG and resilience and management of digital marketing.
Source: // Retrend