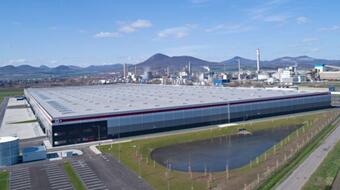 Peter Jánoši, Director of Czech Republic and Slovakia at P3, said: "The industrial real estate market once again faced further challenges during 2022. I want to applaud the good work of my colleagues, who were able to meet the various needs of our tenants and support their business during this period".
53% for logistics
More than half of the newly leased space in P3 parks in the Czech Republic is used for logistics. Among the agreements of the largest volume was the extension by FM Česká of its lease in Lovosice, and also DB Schenker in Strančice. The volume of leases for companies operating in trade and e-commerce last year was less than a quarter of all the leases. Jan Andrus, head of leasing at P3, commented: "Logistics is a traditional segment in industrial parks, and its current strength can also be attributed to changes in supply chains and efforts to move more stock to Europe".
75% prolongation and expansion
The vast majority of new contracts concluded by P3 last year were with customers that already operate in P3 parks. Andrus said: "Market developments have motivated tenants to consolidate their positions in strategically advantageous locations, under predictable conditions. The common denominator of this trend is the search for certainty and stability during a turbulent time and environment. As P3 Logistic Parks, we have a stabilising advantage in that we have a strong investor behind us and we build, own and manage industrial parks, so we think in a long-term perspective, which tenants can now appreciate".
6% flexibility
An example of how P3 can respond to the opposite trend such as short-term rentals, which last year accounted for 6% of whole volume of the leases. Most often, these were areas within units of thousands of square meters, including the lease of almost 12,000 m2 in P3's Prague D6 park, in which a clothing company showed interest. "Even in times of high occupancy, we are looking for ways to accommodate clients who need to start logistics operations at short notice. Of course, this requires maximum commitment and high flexibility. Customers often show confidence in us by switching short-term leases to long-term leases," said P3 Leasing Manager Sean-Jason Valta.
10% newcomers
Space leased to first-time customers made up about a tenth last year. Marek Orolín, Leasig Manager in the Czech team, said: "Their composition is very varied, so in our halls we can find books, freezers and a test laboratory". An interesting group of new customers is the book publishing house, Euromedia Group, in P3 Prague D6 and two distributors of printed materials, Česká distribuční and Media print & Kappa in Horní Počernice. Machines for the processing of cardboard and cartons have been installed in Pilsen, while other technology will occupy the halls in P3 Ostrava Central for handling (Linde Material Handling) and cooling (Tefcold CZ). Last year's top 10 additions to P3's customer base also included the forwarding company PJ Expedis, the manufacturer of stone carpet floors, Piedra Natural, the potato producer Brop and the accredited laboratory, ACT Lab, which specializes in testing outdoor equipment.
97% increase in Build to Suit (BTS) and 59,000 m2 of newly leasable space
"In order to have something to rent, you also need to build," points out development manager Tereza Nešlehová. "Last year we expanded the parks P3 Ostrava Central, P3 Prague D6 and P3 Prague D11, building a total of almost 59,000 m2 of newly rentable space. The ratio between speculative construction and BTS was relatively balanced. Although leases of premises tailored to specific tenants made up less than a tenth of the total volume of leases, exactly 27,661 m2, this is still a year-on-year increase of 97%. Aleš Zacha, head of development at P3 confirmed: "We have attractive locations available for custom construction. Last year, we presented the project of a ten thousandth square meter hall in P3 Prague D6, and considering its proximity to the capital city, it is not surprising that we started building for a specific interested party relatively soon. This year, we are continuing construction in Ostrava, Lovosice and Myslinka near Pilsen".
7 m2 - the smallest rented area
Even rare contracts for only a few square meters are recorded in the statistics. "It is usually about leveling areas, typically in halls, where some part of the construction includes common parts of the building", explains development and leasing coordinator, Pavla Štěpánovská. The continued interest in office space is also noteworthy. P3 leased more than 3,500m2 of offices to tenants who rented no warehouse or production space in P3 parks. "The difference between the smallest and largest deal of 2022 is in the order of thousands of square meters. In short, P3 parks offer a great space for work, whatever the demand for space is," concludes Adéla Bohuslavová, P3 analyst for leasing and development.