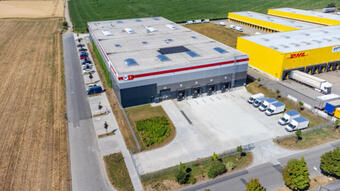 The developer P3 Logistic Parks is implementing two innovative solutions in the area. The first is a photovoltaic power plant (PVE) consisting of 850 solar panels. According to the company, the PV plant with a capacity of up to 410 kWp will be able to cover the total consumption of the logistics center. In addition to its own energy source, the park will also have chargers for electric cars powered by the same photovoltaic power plant.
"The energy self-sufficiency of our parks is one of our priorities. We are monitoring the gradually increasing demand for sustainable solutions and want to actively respond to it," says Peter Jánoši, who heads the P3 Logistics Park in the Czech Republic and Slovakia.
The same hall is also used by Ahold Delhaize, which operates the Albert chain in the Czech Republic. The space in P3 Olomouc is currently the only one in the Czech Republic from where this retail chain delivers goods directly to its customers. Residents of Olomouc and the surrounding area can order delivery from the hall in P3 park. Recently, the developer helped install a custom-made bakery in the hall to finish baking the bread so that it can arrive fresh to customers.
Park P3 Olomouc is located near the D35 highway and at the same time a road to the city center. It currently has 6,000 square meters of warehouse space and 500 square meters of office space for rent. They are suitable for logistics, light manufacturing, e-commerce or as a dispensary or showroom. Among logistics companies, there is a custom-built hall for DHL in the park, and Raben Logistics also has its terminal here.