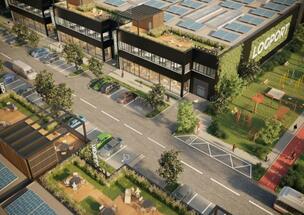 The modern urban logistics complex, which is being built by Logport Development, consists of 11 separate units. According to the development company, the commercial zone will be truly multifunctional, as it combines spaces for logistics and light manufacturing, offices and shops. Seven units – called LogSpace – will be set up for distribution, storage and light manufacturing; the remaining four units – the so-called LogBoxes – will be a flexible combination of smaller warehouses, offices and shops, or retail space.
The site is being designed to be as sustainable as possible and will be rated BREEAM In-use Excellent and BREEAM New Construction Very Good upon completion. A key aspect is its energy efficiency and maximum use of alternative energy sources. Among the sustainability attributes are the extensive use of solar panels, green facades, rainwater retention and the use of so-called "grey water".
The mentioned logistics park will serve not only as a distribution channel of the last mile, where approximately 1.3 million inhabitants can reach within 30 minutes, but also as a main national distribution center using the main Czech road and rail routes.
Henry Grant, Director of Fund Management at Invesco Real Estate, says: "Ongoing pressure on global supply chains, the further expected expansion of e-commerce and the imbalance between supply and demand for newly built last mile logistics space to serve Prague is a very compelling investment case to achieve better results in the long term." According to him, cooperation with Logport to build "the best logistics park" in its category, which will be focused on sustainability, is essential.
"Such opportunities are very rare in the Czech Republic and even rarer in Prague due to the strict planning system. However, due to the high demand from tenants, we expect the last mile sector to grow significantly," predicts Tomáš Pícha, Chief Transaction Officer for Central and Eastern Europe at Invesco Real Estate.
"The prevailing strong demand from tenants confirms the well-thought-out concept and favorable timing of this project. We are confident that the successful completion of the Logport Prague West project will create a strong foundation for future possible cooperation with Invesco," notes David Vais, CEO of Logport Development.
Michal Soták, partner and head of the capital markets department at Cushman & Wakefield, which brokered the transaction, states: "The Prague city logistics market showed the highest rent growth among major European cities in 2021 and 2022, thanks to extremely strong tenant demand and almost non-existent supply . It is therefore extremely difficult to acquire a first-class asset in this market with a highly limited supply, and the forward financing of the developer is essentially the only option for the investor to enter this sector." According to Michal Soták, this complex transaction will serve as a benchmark for future transactions.