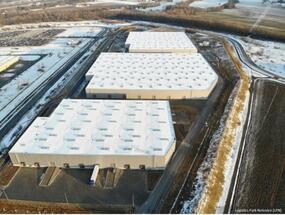 "This year, we have seen unprecedented investor interest in quality industrial and logistics properties in attractive locations with strong leases. This transaction was no exception. Demand is driven by strong investor interest in virtually all regions, unprecedented vacancy rates (currently below 2.5%), record rental growth and very good future prospects, driven by the growth of online shopping and changing supply chain needs. " says Katarína Brydone, head of investment at CBRE, whose team has closed 12 transactions this year for a total value of 450 million euros.
The domestic logistics and industrial real estate market will grow by approximately 10% every year, and its size has more than doubled in the last 10 years. According to CBRE, it currently reaches 9.5 million square meters. Nevertheless, the demand exceeds the supply, when about 3 million square meters were leased in less than 3 years. "Despite the sharp decline in yields, the local real estate is still achieving attractive returns in the European context: it currently stands at 4.25%, which is 95% more than in neighboring Germany. We are glad that with this transaction we managed to achieve a new record yield for the Ostrava region, "adds Katarína Brydone.
Probably a record logistics transaction in the Czech Republic this year included three newly completed premium halls in the Logistics Park Nošovice complex (pictured) with a gross leasable area of ​​64,000 square meters. Their exclusive and long-term tenant is the company Hyundai Glovis, which provides logistics services for the production plant of the nearby car manufacturer Hyundai Motor, which produces the popular Tucson car or electric car Kona Electric. Furthermore, the subject of the transaction were two modern halls with a total area of ​​77,000 square meters in the Ostrava Airport Multimodal complex in Mošnov. Both properties are fully leased, with tenants including Continental Barum, DHL, Hyundai Glovis, M.K. Invest, Rhenus Logistics, Warehouse and UFI Filters.
The logistics park benefits from its strategic location right next to Leoš Janáček Ostrava International Airport in the Mošnov industrial zone with direct connections to the motorway and railways. The complex includes a combined transport terminal with a strategic location on the planned New Silk Road, which is unique in Central Europe for its size and maximum transhipment capacity.
"I am pleased that this transaction shows how J&T, together with Concens Investments, does not hesitate to enter less well-established locations with great potential, attract reputable and financially stable tenants and deliver truly first-class investment products," concludes Daniel Kollár, project manager at J&T IB Capital Markets.