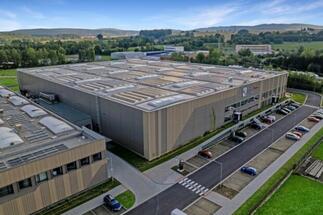 The photovoltaic panels in the Amazon robotics center complex in Kojetín are supposed to have a slightly lower installed power, less than 4 MW. According to 108 Agency, the decision of the development company Panattoni, which revitalized the area of the former sugar factory for Amazon, is not unique in the Czech Republic. On the contrary, the installation of solar power plants on roofs, facades or in the vicinity of industrial properties can be described as this year's trend. "This does not only apply to new construction, but also to older buildings. Developers and owners of warehouse and production sites are reacting to the recent energy crisis, trying to comply with ESG criteria from the banks, moreover, they foreshadow the tightening of European legislation in the area of energy self-sufficiency and independence from fossil fuels," explains Jakub Holec, director of 108 Agency.
A rational approach
At the same time, according to Jakub Holc, the expansion of installations of renewable energy sources is evidenced by the rational approach of builders of warehouses and production halls. Despite the initial investment, they begin to have a reasonable rate of return, moreover, these properties are not dependent on the development of energy commodity prices. Areas that can afford to allocate more capacity can even benefit from any surpluses - either in the form of flexible deliveries to the network during peak demand, or through so-called community energy, where industrial properties equipped with clean energy sources can play a significant role.
A number of developers and owners of industrial properties have started building or expanding photovoltaic capacities. One of the largest industrial developers, CTP, is very far away. It wants to have panels with a total installed capacity of 300 MWp on its buildings by 2030. So far, it is around 14 MWp, 30.5 MWp of PV installations will be added this year and 40 MWp in 2024.
Contera wants to achieve a cumulative output of 8 MW in the first stage at its facilities in Hrušov, Krupka, Teplice and Říčany. It plans to power its entire portfolio with solar energy by 2025. An investor and developer focusing on the logistics segment, GLP Europe, would like to install 17 MW panels on its industrial properties as soon as possible. Another European player, the company CGL, is also actively involved in building solar power plants.
The company Arete declares a clear plan to achieve a power of around 12 MW on its buildings. The installation in its park in Valašské Meziříčí with an installed capacity of 1.4 MWp will be completed by September. A smaller photovoltaic source will already be in operation in Arete Park Rokycany. Its owner, Flow Management, intends to implement the maximum output calculated at 246,444 kW/year in its entire Big Box Park in Horní Počernice as soon as possible. The latest announced realizations of photovoltaics include, for example, the DB Schenker logistics center in Rudná u Prahy (installation power of 849.2 kWp), the Fenix production plant in Jeseník (900 kWp), Pražské strojírny in its premises in Vinoř (996 kWp with a production capacity of up to 980 MWh of electricity per year) or several stages of the PV project at the ZF Electronics plant in Klášterec nad Ohří (998 kWp + 412 kWp).
Problems with statics or capacity of substations
"We could find many more examples. But not everything goes completely smoothly. Some of the older buildings come up against statics in their plans, for new ones the capacity of substations or the distribution network can be an obstacle. Even so, the Czech Republic is doing very well in the introduction of renewable energy sources in industrial parks," notes Matěj Indra, head of the 108 Agency's industrial and logistics real estate leasing department.
According to his colleague Michal Bílé, who heads the market research department at 108 Agency, this trend will lead to further growth in the number of green building certifications. In the middle of 2022, 49% of completed industrial buildings in the Czech Republic were certified, this year it should reach 55%. The positive news is not only the still generous subsidy titles for PV power plants, including the National Recovery Plan, but also the simplifying permit procedure for photovoltaic power plants and other renewable energy sources.