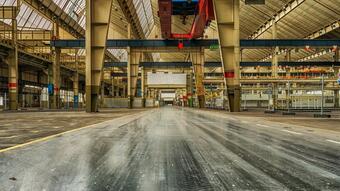 Total investments in industrial commercial premises in the Czech Republic averaged 450 million euros (10.7 billion crowns) per year. At the same time, demand has been growing since 2019, which was a record year. In 2021, the demand for industrial space rose by 50 percent and last year by 36 percent. This puts pressure on real estate prices and rents. The rent for the most expensive spaces exceeds seven euros (166 crowns) per square meter. According to the analysis, less than one percent of all spaces are currently vacant in the Czech Republic, i.e. approximately 150,000 square meters. So-called third-party logistics services, retail and distribution, the light manufacturing sector, the automotive industry and fast-moving goods demand the most space.
"Thanks to its location and relatively cheap workforce, the Czech Republic has traditionally attracted the attention of German companies and suppliers targeting the Western European market. They have already established themselves in the region, and are thus trying to strengthen their position on the Central European market as well. Based on our experience, we can say that production companies usually do not sign contracts for a period shorter than ten years," said Štefan Bohoš, business manager of the development company Panattoni.
In the first quarter, 37 percent of all premises increased in the Ústí Region, 29 percent in the Karlovy Vary Region and 19 percent in the Moravian-Silesian Region. Overall, however, the largest number of leased industrial spaces are in Prague and the Central Bohemia region.
The total supply of commercial real estate in the manufacturing and logistics sector in the CCE-12 region, which includes Albania, Bulgaria, the Czech Republic, Estonia, Montenegro, Latvia, Lithuania, Hungary, Poland, Romania, Serbia and Slovakia, has increased to more than 65 million meters square meters, with 25 million square meters located in and around 12 major cities. The largest market belongs to Poland, which has 30 million square meters of industrial space on its territory. The most developed manufacturing sector in the region in 2020 was the automotive industry in terms of turnover. Recently, demand from customers involved in the production of batteries used in electric cars has risen significantly in the CEE-12 region. This trend should continue in the coming years. The second sector with the highest turnover in the region is food production.
Colliers is an investment advisory and management company. It operates in 62 countries and employs approximately 17,000 employees. Last year, the company's sales were 4.1 billion dollars (89 billion crowns).