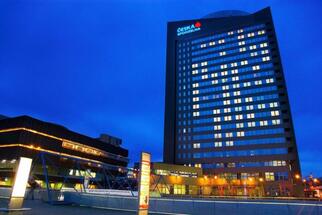 "This year confirmed the importance of industrial halls in our lives – due to the logistics and e-commerce boom those premises could demonstrate their full investment potential. Currently, they are the most precious asset in the commercial real estate sector and play a key role in the strategy of the world's biggest funds. We continue along the path to gradually refinance our entire portfolio. This provides more stability to the fund, and in the long-term perspective will also positively impact its performance. Thanks to the trust vested in us by the banking institutions, Česká spořitelna, and Slovenská sporiteľňa, we are currently also able to offer Slovak investors the opportunity to invest in a sustainable future of the European business" – says Milan Kratina, Management Board President and co-founder of Accolade Industrial Fund.
"Refinancing another part of our portfolio with a single loan granted by one partner is a continuation of our business development strategy. This is a complicated and time-consuming process, which nevertheless brings about significant benefits. It will allow us to significantly simplify our financing management and related reporting. Financial indicators will be assessed based on the entire portfolio and not individual real estate projects, which will make our financing structure more resilient against external factors. We are very happy with the long-term cooperation with Česká spořitelna, who confirmed their trust in our fund yet again" – adds Zdeněk Šoustal, Management Board Member and co-founder of Accolade Industrial Fund.
Four parks in the Czech Republic have been refinanced. These are the facilities in Cheb Jih, Ostrov u Stříbra, Přeštice and Týniště nad Orlicí. A total of 200 000 square meters of modern floor space is used by KION, ASSA ABLOY, real digital, IAC, LEONI, IDEAL and ALPHA Corporation.
"As a bank, Česká spořitelna prioritizes financing projects that support the development and competitiveness of our economy. Industrial parks are and will be gaining importance, which is caused, among others, by the changing circumstances in the field of production retail and e-commerce caused by the consequences of the Covid-19 pandemic. Moreover, cooperation with the Accolade Fund guarantees an environmentally friendly approach, which is of great importance for us" – points out Martina Jůzová, Developer Transactions Manager at the Česká spořitelna bank.
"I am happy that also the customers of ERSTE Private banking, the private banking division at Česká spořitelna, will be able to benefit from investing in industrial real estate successfully managed by Accolade Industrial Fund. I am convinced that our cooperation with Accolade Industrial Fund will contribute to a greater differentiation of our customers' investment portfolios and will allow ERSTE Private banking customers to benefit from industrial real estate market development with the support of the experienced professionals at Accolade" – adds Michal Orlovský, Head of Erste Private banking at Slovenská sporiteľňa.