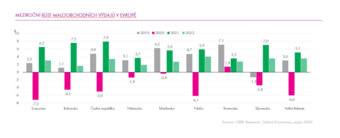 "There can be no doubt that, after 12 years of prosperity, we are now in a global recession. In our view, however, it is important not to succumb to pessimism in the current situation - also given that it differs significantly in nature from the last financial crisis in 2008. At CBRE, we expect the economy to recover relatively quickly: a sudden downturn and subsequent growth will resemble the well-known Nike logo. However, there are still factors at play that could change this outlook - not only another quarantine of a large part of the population due to the current pandemic but also Brexit and the US presidential election," said Clare Sheils, CBRE's CEO for the Czech Republic. "The industrial sector is proving to be the most resilient commercial real estate sector, both in terms of rental levels and by maintaining a low vacancy rate," continues Clare Sheils.
Industrial sector: we expect market growth
During the first wave of the pandemic, the industrial segment proved to be the most flexible and resilient of the entire commercial real estate market. Thanks to the continuing boom in e-commerce and the associated forwarding/courier services, a period of prosperity await it in the future. "With e-commerce, the demand for warehousing and logistics facilities is growing. In an effort to deliver to the customer as quickly as possible the ordered goods that are sensitive to temperature (not only food but also medical products, for example), the current trend is modern warehouses with refrigeration units designed for the transport of these goods. We expect general interest in industrial real estate to grow as many companies consider moving their production capacity from China to Europe to reduce dependency. We expect a strong increase in automation in industrial and logistics complexes in the future - thanks to this, companies will be less dependent on the workforce, while managing to meet the ever-increasing demand," comments Lukáš Šaling, CBRE's Head of Transactions and Consulting for Logistics and Industrial Real Estate. "Short-term leases are a novelty in industrial real estate caused by a coronavirus. In the first half of the year, they further expanded the total demand for industrial space in the Czech Republic by another 86,000 m2, while the net realized demand alone was 300,000 m2 in the same period. Some companies, which had leased premises only for a short time in the first quarter of this year, were so successful that in the second quarter they had already decided to lease the premises for a long time. The industrial segment is also now entering the trend that has manifested itself in offices so far: these are subleases, where large tenants offer part of their leased space to other entities," adds Jan Hřivnacký, head of industrial real estate leasing at CBRE.
Retail: e-commerce, but also experience shopping in stone shopping malls
As the current situation shows, despite the long-term increasing online shopping, customer interest in brick-and-mortar shopping centers continues. According to CBRE, they will move more and more to so-called experiential shopping in the future. Gastronomy and leisure activities (e..g multiplex cinema, fitness, etc.) are always an experience for customers in traditional shopping centers - although, in these areas CBRE expects short-term stagnation due to coronavirus, they will continue to strengthen in the future. "Plans to expand established, well-functioning shopping centers are still on the table. The trend of redevelopment also continues, i.e. adapting older shopping centers to current lifestyles and needs - although in both cases part of the plans has been postponed due to coronavirus. Currently, the development of shopping parks is very active - a concept that is proving to be very viable for the present. This is partly because it is implemented in smaller cities and thus provides customers with the opportunity to purchase everyday goods within a short driving distance," comments Milan Mašša, Head of Transactions and Consulting at CBRE's Retail Department. "We expect a slight decline in rents in premium shopping centers in response to Covid-19 - however, it is difficult to predict anything for this year (also with regard to the COVID-Rent program)," says Tomáš Míček, head of shopping center management at CBRE . With regard to the current development of coronavirus in the Czech Republic, according to CBRE, a further strengthening of e-commerce can be expected. In response to the first wave of the pandemic this spring, the online platform was created by retailers who did not have it before. Currently, many of them focus on the effective connection of online shopping with the traditional one and on making online shopping easy and attractive for the customer.
Source: // Roklen24