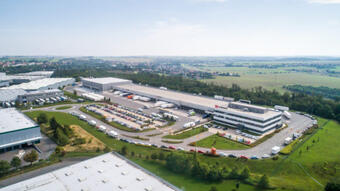 The new part of the terminal has an area of ​​4,421 square meters and is designed to allow different ways of use. It is primarily intended for cross-dock operations, but depending on market requirements, it will be possible to quickly start implementing so-called value-added projects.
"Our long-term strategy is sustainable growth, efficiency and flexibility of the services provided. This planned expansion of additional premises at our headquarters in Rudná u Prahy will, among other things, allow us to implement new orders of a larger scale, which we would otherwise have to serve from several locations," explains the director of DB Schenker Tomáš Holomoucký.
Both warehouses will be in operation 24 hours a day, 7 days a week and will offer a whole range of transport and logistics services. In addition to the customs warehouse, the complex now also includes a dedicated warehouse for hazardous and flammable substances (ADR). Overall, thanks to the number of advanced electronic elements, the warehouse has a high level of work safety for both employees and external partners, such as truck drivers.
Friendly to employees, considerate of nature
The opening ceremony was mainly attended by existing employees, and their ranks should soon be expanded by others. DB Schenker will currently offer dozens of new jobs in this location, thanks to further planned development. The new building is connected to the existing terminal, but will have its own facilities, including offices. New changing rooms and showers were built here for storekeepers, and new parking spaces were added outside. The plan includes the expansion of charging facilities for cars and trucks, which is a clear signal of support for electromobility.
The building meets TAPA A certification. Even the original terminal and the office part, to which the company moved nine years ago, stood out with sustainable elements such as lower energy consumption, more gentle water consumption and intelligent light control. "In connection with our energy efficiency, we are planning to build a smaller photovoltaic power plant here with capacity for our own use. We want to be at least partially self-sufficient in the face of unpredictable fluctuations in electricity prices, and thus make our services more competitive in price these days," Tomáš Holomoucký says about other plans.
DB Schenker also has its own CNG filling station on the premises. The alternative fuel mainly powers trucks for urban logistics and also a significant part of the passenger car fleet. The company is also testing an LNG-powered truck here.