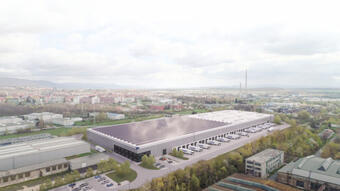 "We are glad that we can proceed to the actual implementation of the project after the revitalization. Demand comes mainly from manufacturing companies looking for employees to ensure operations, and Chomutov is a unique choice for these companies. We expect that the new hall could create up to 500 new jobs, "says Martin Stratov, Garbe's Business Development Director for the Czech Republic and Slovakia.
Martin Polák, Garbe 's Director for Central and Eastern Europe, adds: "We believe in our investments in land revitalization and regional development. The almost zero availability of industrial premises in combination with the local skilled workforce makes Chomutov an ideal place for speculative construction. Another advantage is the strategic location of the park at the border with Germany. "
Garbe Park Chomutov is located in Chomutov directly at the exit of the D7 motorway only 18 kilometers from the German border and 98 kilometers from Prague. There is a trolleybus stop on the edge of the industrial park.