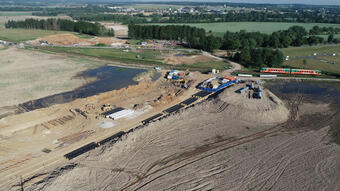 Garbe plans to develop industrial buildings for foreign and local investors on a 491,693 sqm plot. The developer will offer leasable space for small businesses and it will be capable of supplying space comprising tens of thousands of square metres. Each building can be tailored to the customer's needs. As with all Garbe parks, it will be delivered and comply with the highest industry standards providing sustainable solutions, energy savings and low operation costs. The project respects the surrounding area and local environment, ensuring that water will be 100% recycled, offering solar panels and the carbon footprint will be minimized during its operations.
"We are happy to have completed this transaction and are ready to begin a new project in this great location," said Martin Polak, Managing Director Garbe for CEE. "We see this as a great opportunity with much potential as we are aware that Prague and the South Moravian regions have one of the highest occupancy rates in the industrial space. These areas also suffer from a lack of building plots. The Pilsen region can no longer offer the needed labour force and the rent rates are high as well. The newly completed D3 highway in South Bohemia will provide a fast connection to key European markets especially Austria and Bavaria, Germany. We aim to support the development of the region along with delivering new space for logistics and production companies," he added.
The project is located in České Budějovice in Boršov nad Vltavou, 90 kilometres from Linz, 150 kilometres from Prague, 300 kilometres from Munich, 400 kilometres from Budapest and 500 kilometres from Berlin and Frankfurt. The location not only offers great highway access but also the České Budějovice airport is located just 3 kilometres away.