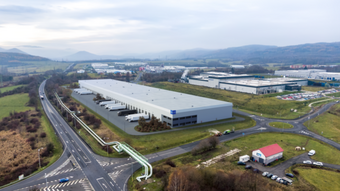 An industrial building with a usable area of almost 21,000 square meters will be built on a plot of land with a total area of over 45,000 square meters. It will thus connect to the existing Garbe Park Chomutov I industrial zone, whose total gross leasable area (GLA) is 30,000 square meters.
"For the tenant, the project is attractive due to its location in the sought-after Verne industrial zone next to the R13 road and the D7 highway leading directly to Germany, but also due to the fact that the hall will meet the highest ESG standards for the sustainable construction of industrial real estate according to the BREEAM Excellent certification," says Lukáš Zrást, co-owner of the investment group Progresus, which provides the majority financing of the project with a total value of over half a billion crowns.
Progresus, whose best-known assets include the largest Czech supplier of wooden buildings RD Rýmařov, entered the field of industrial development in addition to residential construction with the project near Chomutov. "Our long-term development plans are built on innovative and sustainable projects, and this is exactly what we have in common with Garbe. In this regard, the potential of industrial sites is huge, both thanks to the strategic location of the Czech Republic in the heart of Europe, and with regard to the requirements of tenants, who increasingly take ESG parameters into account when choosing a specific property," describes Lukáš Zrást.
For Garbe Industrial Real Estate, the joint project with the Progresus group is already the third Czech investment in a short time. It will link to its first strategic location in Central Europe, which in the same industrial zone became the Garbe Park Chomutov I, which has just been completed. . We already have a large, renowned tenant for the second Garbe Park Chomutov II industrial complex," says Martin Polák, director of Garbe Industrial Real Estate for Central and Eastern Europe. "We are now negotiating to occupy the remaining 30% and I expect that by the beginning of the summer we will have signed leases for this capacity as well," explains Veronika Zacha, senior business development manager from the Garbe Group, adding that the names of the tenants will be announced at the groundbreaking ceremony supporting columns at the beginning of June.