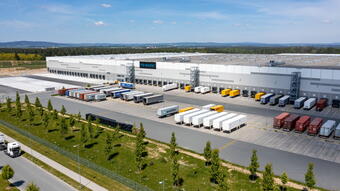 Primark has signed a new contract with CTP for the lease of additional 28,000 m2. Until now, the company has been leasing approximately 51,000 m2 of space in CTPark Bor, which serves as a distribution centre for a large part of Central Europe. The new warehouse was constucted adjacent to Primark's existing premises but operates independently, with separate water, electricity and gas connections.
The warehouse is completely finished and has already been handed over to the tenant and will be used mainly as a distribution hub. The goods will be delivered throughout the Czech Republic, for example to the recently opened brick-and-mortar store on Wenceslas Square in Prague, which has seen large queues ever since opening and is especially busy in the run-up to Christmas. Goods from Bor will also be shipped to Austria and Germany.
The clear height of the new warehouse is 16 metres, which makes it one of the tallest warehouse buildings in the Czech Republic.
Jakub Kodr, CTP's Head of Business Development for the Czech Republic, explains:
"Primark's premises are unique in many aspects, not just the clear height, but also because they are ready for fully-automated operation. In the near future, the high-tech warehouse will require only a few employees who will work in the warehouse alongside the robotic tech."
In contrast to the first building, which is designed as a classic warehouse with racking systems, the new building will have narrower aisles usable only by automated technology, but allow for higher storage capacity, making the building more efficient.
The building also meets the strictest fire safety requirements according to the international FM Global standard, which guarantees that newly implemented systems are sufficiently protected against fire as well as other natural elements. Electrical systems are backed up by generators, which allows for continual operation of the warehouse in the event of a power outage. Other special features include special seamless floors necessary for the operation of robotic technology, such as VNA handling machines. As is now customary for CTP, the warehouse aims to achieve BREEAM Excellent sustainability certification. The building's environmentally friendly design is further enhanced by a PV-ready roof and twelve charging stations for electric vehicles.
CTPark Bor is currently the largest industrial park in the Czech Republic with a total area of 135 hectares. Upon completion, which is planned for the end of next year, the park will provide approximately 616,000 m2 of lettable area. The site, only 15 kilometres from the German border, has long held a reputation as one of the most attractive locations in Central Europe. Currently, is home to 14 tenants including leading international technology suppliers and automotive companies. The park provides jobs to approximately 5,000 people.