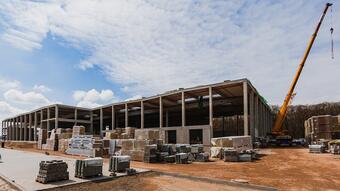 "In recent years, we have fully felt the boom in demand for e-bikes, which is why we soon started looking for a new hall that will be sufficient for the development of our company. Panattoni Park Týniště is completely ideal not only thanks to the modern technologies in the hall, but also good transport services, which will especially help us in faster distribution of our products," says Jakub Ryba, CEO of Totem Bikes.
The Panattoni company has been expanding the industrial park in Týništ nad Orlicí since last fall, when, based on the demand for free space, it started the construction of two halls with an area of ​​16,000 and 9,900 square meters. The tenant of the just completed half of the first hall is the transport and logistics company C.S.CARGO. Here she found a suitable place to expand her services in the field of e-commerce.
"On behalf of DRFG Real Estate, I would like to note that the quick filling of the halls with top tenants demonstrates the sense of our investment in the construction of Panattoni Park Týniště. The international certification of BREEAM New Construction halls also plays an important role in terms of rentals," says Josef Šilhánek, director of DRFG Real Estate.
"The long-term lack of capacity in industrial zones met with the expansion of the park in Týniště, supported by the exponential growth of the e-commerce sector, clearly confirmed to us that the expansion of our park in Týniště was the right step. We only started the construction of two new halls at the end of last year, and already after the announcement of the first tenant in May, we have another reinforcement for the new premises. In the coming years, we expect that the demand for rentable areas will grow even more, and thus it will be much more difficult for companies to find suitable premises," adds Pavel Sovička.