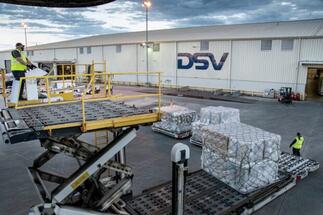 "Out of North America, the most attractive market for us is the United States. The costs that we transport for local clients include, for example, electronic components, textiles or also equipment for children's playgrounds. By air, we mostly arrange the transportation of automotive parts, but sometimes a special project comes up, for example, last year, transporting a helicopter trainer to NATO Days or racing bobsleds. Mexico and Canada also do not go unnoticed and are a frequent destination for export cargo for us, respectively for our clients," says Martin Jukl, director of the Sea Department within DSV Air & Sea CZ.
DSV is taking steps to further strengthen its position in the mentioned region. This year alone, it made two significant acquisitions of logistics companies – S&M Moving Systems West and Global Diversity Logistics. On the border with Mexico, DSV has extensive warehouses that are used, among other things, for automotive components.
In addition to acquisitions, DSV is also expanding its portfolio of charter flights. These can streamline the flow of goods, especially for local businesses that do business with companies on the West Coast of the United States or with Mexico.
"At the airport in Phoenix, Arizona, we have newly commissioned two air charters, including our own hangar and handling equipment. We are thus responding to the growing semiconductor market in Arizona, which will continue to develop, which is why DSV has strengthened its operations in this location. New air charter routes will connect Arizona with Europe and Asia. The connection to this route specifically for Czech clients and their shipments goes through the catchment airport in Luxembourg, with which we have a daily truck connection from Prague," comments Robert Kraus, director of the Air Department at DSV Air & Sea CZ.
The US intends to help freight carriers, among other things, by proposing legislation on tax breaks. If ratified, it would introduce a two-year refundable tax credit of up to $7,500 for truck drivers who log at least 1,900 hours a year.