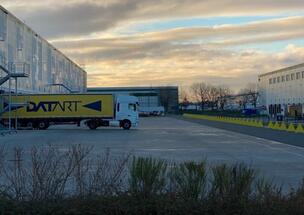 "By expanding the space by another thirty-eight thousand square meters, we are preparing storage capacity for further growth in the coming years. At the same time, we are concentrating our existing warehouse areas in one place, which will also speed up logistics and shipping processes. The new premises will allow us to increase the stock of large household appliances and televisions and give us a great deal of freedom. We will be able to cover possible supply outages from manufacturers more quickly and the customer will have the goods immediately available, "said Libor Křížka, DATART's director of logistics.
The seller will start moving logistics capacity from its current smaller warehouses in the second half of this year. It also plans to introduce automatic trucks that will bring the goods from the storage location to the shipping ramp. "Due to the large area of ​​the warehouse, we will handle long crossings with automatic trucks. We will test the first two trucks in our logistics center in Jirny in April, and then introduce the next in an expanded warehouse, "adds Libor Křížka.
Outside the warehouse in Horní Počernice, the seller has a modern automated logistics center in Jirny, which, thanks to state-of-the-art technologies, ships up to three million pieces of goods in one month. The last significant investment here was the automated packaging line Opera, which manages to pack over twenty thousand packages a day and thus speed up the packing of shipments twenty times. Currently, retailers at Opera pack about 70 percent of all their shipments. The center in Jirny and the expanded warehouse in Horní Počernice will total eighty thousand square meters.
The DATART warehouse in Horní Počernice with an area of ​​twelve thousand square meters opened in May 2019. With an extension to fifty thousand square meters, it is the largest warehouse in the Horní Počernice complex with a length of four hundred and twenty meters. The warehouse will continue to supply the DATART store network, it will serve as a dispensing point for large household appliances that customers order on the e-shop, and at the same time the goods will be sent to customers at.