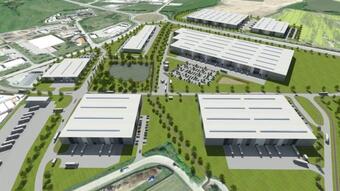 The Dachser branch in České Budějovice has been writing its history since 2006 and focuses on serving customers from southern Bohemia. The new building in VGP Park České Budějovice will include 2,000 square meters of transhipment and over 4,300 square meters of warehouse space with a capacity of approximately 7,000 pallet spaces. Part of the warehouse will be specially adapted for short-term storage of dangerous goods classified according to the ADR agreement. The building will have 14 loading ramps for various types of trucks, the administrative part of the building will then offer 650 square meters for modern offices. Dachser also deals with the future use of alternative drives and also counts on the use of a charging station for electric vehicles, both trucks and cars.
"The new premises will allow us comfortable and high-quality handling of consignments as part of our collection service and faster check-in on ramps," says Jan Pihar, CEO of Dachser Czech Republic. "We are preparing modern office space for employees as well as pleasant daily rest rooms and facilities for warehouse operators. The advantage is then the location of the park, which meets our high demands both with regard to urban logistics and for our long-distance collection service lines. "
VGP Park České Budějovice is established directly on the outskirts of the city in the Světlík commercial zone with excellent transport connections to the center and a direct access to the D3 motorway connecting Prague and Linz, Austria. Upon completion, a complex with more than 126,000 square meters of leasable areas suitable for logistics or light production will be built on the 37-hectare plot. A total of seven buildings of a high standard with an emphasis on energy efficiency and sustainability are planned, which target the green BREEAM certificate in the Very Good level.
According to the developer, the newly emerging VGP complex is suitable for building a logistics center thanks to its high-quality accessibility to the city center and proximity to the German and Austrian borders. "We are very pleased to have been able to agree with such a prestigious tenant as Dachser that we will implement the new premises exactly to measure. At the same time, we are pleased that the correctness of our decision to build A-class industrial real estate in České Budějovice is confirmed, because before our entry into the site in this part of the Czech Republic practically did not exist, "comments David Plzák, VGP country manager for the Czech Republic.
The construction of the new building will begin, with approximately 7,000 square meters of construction as a build-to-suit lease to Dachser Czech Republic, at the end of October. Construction is expected to be completed in March 2022.