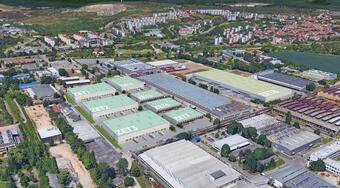 "We have been cooperating with Zetor for three years and this transaction is a significant milestone in the project to build another modern city business park in Brno - in addition to the location, which we are now returning to its usability. We bought the land, but Zetor will continue to use it on the basis of a lease agreement, "said David Chládek, CTP's director for the Czech Republic.
Until now, the CTP company owned 75,000 square meters in the area, which is the so-called brownfield, ie an unused and neglected industrial area. It began its revitalization in 2019, and should be completely completed at the turn of 2024 and 2025.
The CTPark Brno Líšeň complex is intended for shops operating on the Internet, light industrial production, urban logistics as well as for retail and research and development. All built halls should be certified for environmentally sustainable buildings. A system for rainwater retention and reuse of so-called gray water will be built in the area, and the developer also plans to use solar energy. The park will include charging stations for electric cars.
The halls completed so far are home to the Rohlík.cz online grocery store, the Albert chain, the Aktin sports nutrition retailer, the Krannich Solar photovoltaic wholesaler and the Moog Brno manufacturer of special electrical machines and drives for the aerospace, automotive and energy industries.
CTP states that it has a forty percent share in the industrial and logistics real estate market in the Czech Republic, this year it plans to break the record from last year, when it had 437 thousand square meters under construction throughout the Czech Republic.