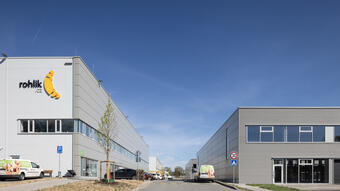 The revitalization of the brownfield near the city center in Brno-Líšeň was started in 2019 and CTP plans to complete it within four years. The first renovated almost eight thousand square meters were leased in the autumn by the online grocery store Rohlík.cz, which had previously used the premises of CTPark Brno for about three years. CTP is currently preparing both larger commercial properties and start-up units for young businesses that will be able to grow with the park.
"In CTPark Brno Líšeň, we noticed a really enormous interest in new premises, which only illustrates the fact that we are currently building several buildings at the same time to cover this demand. We are now negotiating with six new tenants and negotiations are underway with several others. Clients will be moving at the turn of this year, "stated CTP business developer Pavel Blažek, adding that the expected amount of investment in the complex will be around 1.5 billion crowns.
Production and storage of food for athletes
The new industrial park is specific to the great diversity of its tenants, who will use the premises for the purposes of e-commerce, smaller development and research or lighter production, for example in the field of engineering, automotive or food industry. "CTP has met us with unique technological requirements, such as high-performance air conditioning to maintain specific humidity and temperature throughout the building, which is necessary to optimize the process of production and storage of functional foods. The project is a unique combination of agile production and distribution. The products can thus leave production on the same day to the customer, guaranteeing unrivaled freshness, taste and quality. Thanks to this, we are able to deliver baked granola or groundnut butter a day ago, for example, "described Michal Hubík, sales director of Aktin, a company engaged in the production of sports nutrition.
Other tenants who, thanks to CTPark Brno Líšeň, will expand their storage facilities at the end of the year include several local companies - such as Ahifi providing sound and soundproofing vehicles and car care sales, or Moog Brno, a major European manufacturer of special electrical machines and drives for aircraft, automotive or the energy industry.
The area is very well situated in the context of the city, located about a quarter of an hour by public transport from the center and about ten minutes by car from the D1 motorway.
Source: // Logistika ihned